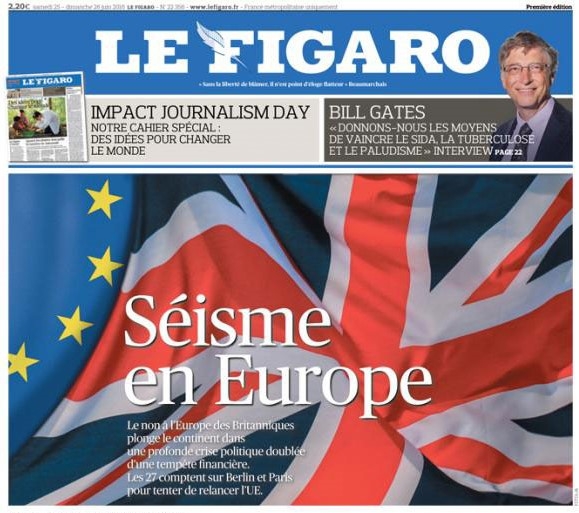 "Séisme.. en Europe"…
Le Figaro.. wailed…
France.. et le monde entier…
Is in… shock…
"Le non à l'Europe des Britanniques plonge le continent dans une profonde crise politique doublée d'une tempête financière."
Mon… Dieu…
Brussels… threatened…
"This is NOT an amicable divorce, but it was not exactly a tight love affair anyway."
Oh… dear…
Angela Merkel said.. "This is a blow to Europe and is a turning point for the European unification process."
In his TV address from the Élysée Palace here in Paris.. we watched President Hollande sternly saying.. "The British vote poses a grave test for Europe."  He urged solidarity and strength in the face of the inevitable economic crisis.  He also warned that "action was needed to reconnect with citizens" and wisely added "the EU must recognise its shortfalls.. a jolt is necessary."

Quite.. right…
Matteo Renzi.. the Italian Prime Minister tweeted.. "Europe is our future.. we must make it more human.. more just."  His shocked foreign minister Paolo Gentiloni said.. "It's as if Big Ben stopped, and Brussels will not carry on as normal."
Shock.. horror…
Having lived in and loved Paris for the past several years… we never imagined that Europe in general.. and France in particular.. would be so devastated with the UK opting to vote "Leave".
Au contraire… our Frenchies always seemed so very self-sufficient.. so not needy of anyone.. so confident…
But like a jilted lover.. some of our fellow citoyens vented their anger at "Les Anglais" by lashing viciously "Bon debarras".. good riddance.. another tweeted.. "The English vote, like their cooking, it's diabolical."
Bof…
However 17 million of the forgotten people of Britain.. who were fed up with their elitist governance and the patronising and undemocratic corruption in Brussels.. rose up to regain control of their destiny.. in a "stunning rejection of the European Union."
The brave and courageous people of England… the Leave supporters.. the Brexiteers.. defied "Project Fear" and voted to regain their freedom.
Boris Johnson.. favourite to replace David Cameron.. the defeated Prime Minister… argued passionately.. "This is about the right of the people to settle their own destiny.. the right of all of us to elect and remove the people who make the key decisions in our lives."
Bon…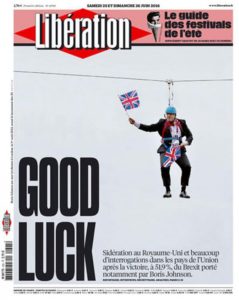 The people of Britain possess the boldness.. resilience and courage required to extricate themselves from the EU.. by reuniting the country to establish a prosperous and independent democracy.
Although a passionately dedicated Francophile.. I respect and uphold the wishes of the people of England.. a country we lived in and loved too.
Democracy.. is a beautiful thing…
It is the day.. the gentle.. clever people of England…
Stood… up…
And…
Roared…
a.