Ernest Hemingway – A visit to his home… in Paris…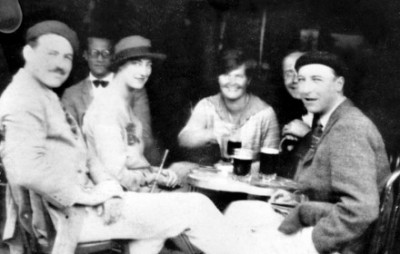 Ernest Hemingway…
"For Whom the Bell Tolls…
It tolls for thee".
My fascination with Hemingway has always been… passionate… emotional… enduring…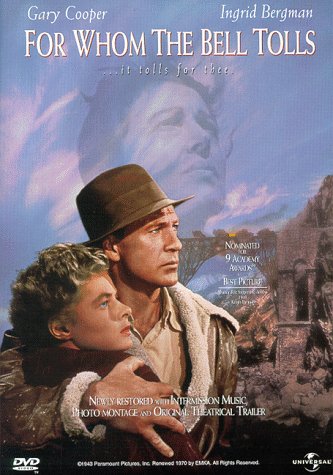 Climbing a sligthly steep hill… we landed on the doorstep of Hemingway's old Parisian apartment… on "74 rue de Cardinal Lemoine"… in the 5th Arrondissement.
It is the oldest part of Paris, "juste à côte de Panthéon" and the "École Polytechnique".
It was an awe-inspiring moment…
I literally felt his formidable presence… fleetingly visualizing him… walking out of the dark-blue door of his apartment…
Breathlessly imagining… him…
Tall… dark… dashing…
An extraordinary presence…
Hemingway… loved Paris… and felt very lucky to live in the "City of Light"… meeting and befriending many illustrious writers and artists of the day, including… James Joyce, Ezra Pound, and Gertrude Stein… among many others.
Having been mesmerised while reading his novels… watching them "cinematically" was a vividly magical and memorable experience – unforgettable…
How I wept… with the divine Ingrid Bergman when she… loved… and lost… her "Roberto"… the irresistable Gary Cooper in… "For Whom the Bell Tolls".
How vividly exciting life was depicted during the Spanish Civil War, in "The Sun Also Rises"… (considered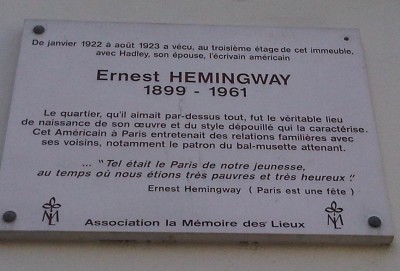 one of his greatest works)… with Ava Gardner – a Goddess – and the dashing Tyrone Power… watching "toreros" at the… "corrida de toros".
Not forgetting his emotive "A Farewell to Arms"… and "The Snows of Kilimanjaro"… written while on safari to Africa…
Hemingway was constantly on the move, travelling all over the world… while documenting, describing, and implementing his own colourful

experiences in his works, to the extent where his "darling"… much loved characters… often intertwined with his own real-life character.
Our hero had a unique talent in recreating and relaying… intimately and vividly… the lifestyle… the ambience of whatever country… on whichever continent… he lived in at that moment in time… and loved.
He had a genius… in bringing his character's… location… style… and mood… to an explosion… of life itself…
Hemingway was also famed for his crisp and "tightly written" style.
It was for… "his mastery of the art of the narrative" that won him the "Nobel Prize in Literature".
As time travelled by… Hemingway became a national icon in America, his own country… (inspite of the fact that most of his novels were set in foreign countries)… and an international celebrity abroad.
Hemingway lived the longest time in his beloved home, the "Finca Vigía" in Cuba, where he was and is idolized… till this very day.
In fact, he considered himself to be Cuban…²
He was constantly on the move… from Michigan to Italy and Spain… (where he joined in the Civil War), Cuba, and Africa… notoriously, tirelessly in motion, as if trying to run away from something… someone… or maybe his very own demons… himself…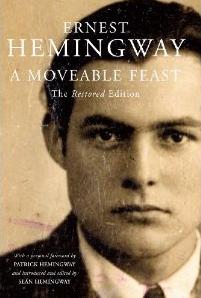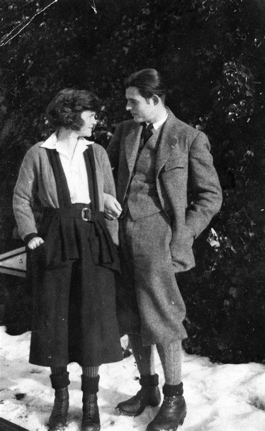 He was a regular at "Harry's Bar" in Venice at the end of World War II…
Paris in the early 20's, where he wrote… "Paris is so beautiful that it satisfies something in you that is always hungry in America".
His daring escapades… from driving ambulances in the First World War in Italy… to a courageous reporter… in the Spanish Civil War… to hunting, fishing, skiing, and even surviving a plane crash.
"Quel… nomade"..
"Quel… voyageur"…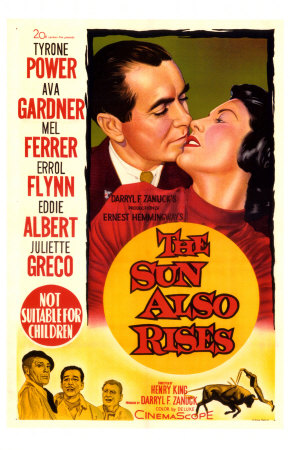 It would have been… a "dream"… to have known him.
A handsome man…
Virile… (married four times, and had three sons)…
A heroic figure…
A brave and fearless one…
They don't make… men… like that anymore.
The one and only…
Ernest Hemingway…
We celebrate…
You.
a.