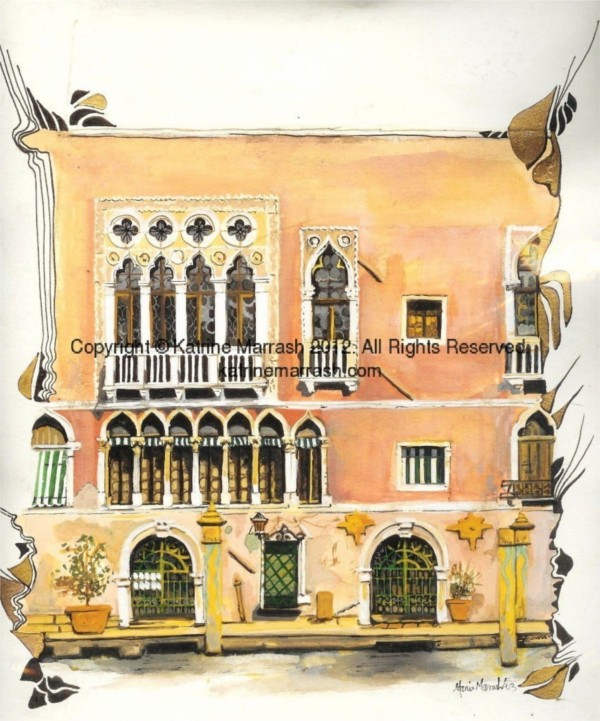 The phone was ringing.
It was the mesmerising voice of the man I love, asking me to accompany him on a short trip to Venice.
Venice, the hauntingly enchanting city I adore – after my beloved Paris.
Thrilled and elated, I pack a few things into my Vuitton travel bag.
Upon arriving in this city of extreme beauty, we're whisked off  in a small shuttle boat, which took us to our hotel, the Gritti Palace.
Venice is utterly fabulous at this time of year – it is rather cold, windy, and wintry, also, misty and foggy, giving it an incredibly romantic atmosphere.
With an Armani beigy, faux fur coat and fur hat, bringing out the blond of my hair, and the blue of my eyes, I walked with my tall, dashing, peppery-haired love of my life, while holding each other tight, marvelling at the numerous bridges that link the city – which is mainly floating on water.
Of course, the most evocative is the "Bridge of Sighs" (a local legend promises lovers will be granted everlasting love and bliss if they kiss on a gondola at sunset under the bridge) – unfortunately, it was being renovated during our visit, but will sail under it in a gondola next time we're there, ensuring our everlasting love.
Having reached the dazzling "Piazza Saint Marco", we heard music coming from a quartet, playing old Venetian songs – so very ethereal, so very romantic.
After "Saint Marco", we headed to our favourite, legendary "Harry's Bar", where we drank our usual peach "Bellini", and dined on the superb Italian cuisine – while the owner chatted and entertained his guests.  A truly fabulous experience – every time.
Back in our hotel… full of art and unique Venetian antiques, which has been frequented by affluent, famous, and illustrious people throughout history, the perfect background to enhancing our memorable visit to this amazing and unique city.
Next morning, we had our "espresso" at one of the cosy and lovely cafés around Saint Marco's, after visiting the "Doge's Palace", or "Palazzo Ducale", marvelling at it's works of art and majestic power.
For lunch, we headed to another of our favourite restaurants called "Trattoria Alla Madonna", two steps from the "Ponti di Rialto" bridge – the cuisine is typically Venetian and perfect in every way – their fried calamari is sumptuous, and their Tiramisu sublime.
"Ce soir la", I wore a sequin mother-of-pearl jacket over a black chiffon dress, with my silver Venetian necklace, embossed with a blue stone – a present from my love – both of which were greatly admired.
Having been invited to an "intime" night club, by our friends, we danced the night away.  Unforgettable.
The next day we were back home – "tu m'a manqué, Paris, mon amour".
"Mais nous reviendrons, Venise"…
a.