The Duchess of Alba… weds… Alfonso Diez…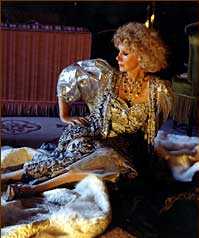 La Duquesa de Alba…
Love conquers all…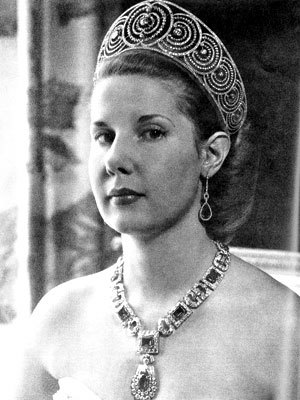 A renowned beauty…
In her time…
The stylish and flamboyant… "Duchess of Alba"… the much loved 85 year old Spanish heiress… weds… the "love of her life"… the good-looking civil servant… Alfonso Diez… making him, a "commoner", the "Duke of Alba"… who happens to be 24 years younger than his bride…
The "Duquesa" gave up a huge part of her… massive fortunes… for Love.
Amazing love… beautiful…
Blissful…
The Spanish aristocrat… has 46 titles – she is a duchess, a countess and a marquesa… several times over… and is claimed to be more noble than her distant relative… Queen Elizabeth II.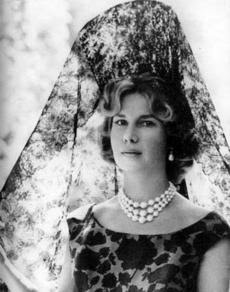 Her full name is "Maria del Rosario Cayetana Alfonso Victoria Eugenia Francisca Fitz-James Stuart y Silva"…
"Quelle beauté"…
"Quelle artistocrate"…
The Duchess' wedding to the aristocratic Don Pedro Luis Martinez de Irujo y Artacoz in 1947 was the last majestic feudal wedding in Spain… with the "crème de la crème" of Spanish nobility attending the beautiful young heiress… marrying a dashing naval officer…
Her wedding was the most opulent the world had ever seen – it was so regal and spectacular… that it was feared it would eclipse the nuptials, a month later, of the then Princess Elizabeth of England.
After her husband's death in 1972, she wed Jesús Aguirre y Ortiz de Zárate, an intellectual, who died in 2001.
The "Duquesa" is not only the owner of vast spaces of land, but also owns a dozen palaces, whic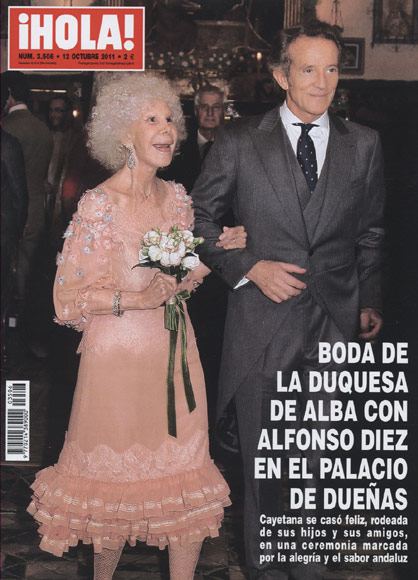 h are magnificently filled with priceless Artworks by Rembrandt, Reubens, Velázquez, and Titian, as well as a € 20.5 million library that includes the 1st edition of Cervantes' "Don Quixote", and a family Bible from 1429.
Among them is the portrait of her legendary ancestor "The Duchess of Alba", by the famed artist… Francisco de Goya… who is thought to have been her lover – when she modeled his masterworks…
"La Maja Vestida"… "The Clothed Maja"…
"La Maja Desnuda"… "The Nude Maja"…
Picasso… asked the young beauty… Cayetana… to pose naked… for a portrait, in tribute to Goya's… "The Nude Maja"…
To her great regret and dissappointment… she refused Picasso the honour… at the time.
It has been rumoured that, as the brother of Pedro, an antique dealer, who was a friend of the Duchess, Alfonso Diez had known and loved the "Duquesa" for over 30 years.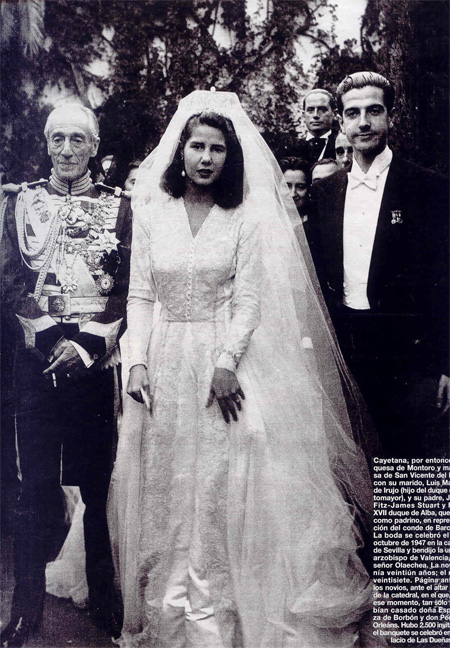 From a Madrid middle class family, Monsieur Diez, a civil servant, was described as being… "raffiné, cultivé, comme la Duquesa" – interested in Art and Antiques.
Also, both share… a love of bullfighting… a passion for flamenco dancing… (at which she excels)… cultural heritage… and Art…
A healthy relationship based on… mutual passions…
To allay her six children's fears about Alfonso being after her fortune, she solved the problem… by wisely dividing her wealth among her worried children…
Thus getting their full support.
Giving up much of her breathtaking fortune…
For love…
The Duchess revels in eccentricity… has undeniable bohemian… flair and style, often wearing hippy bracelets, ankle charms, and bright coloured clothes…
Having famously declared that her style was… "myself".
The "famed beauty"… (in her youth)… is nothing but strong-willed…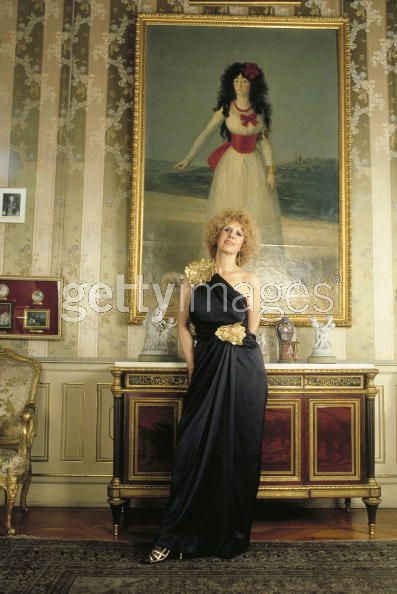 When asked if there wasn't support for her upcoming marriage from friends, family, and countrymen…, she replied… "I'd get married anyway"…
Voilà…
Damn the… critics…
Damn the… "vulgarians"…
They are blind to… "inner beauty"…
The two lovers are… very much in love…
They are… soul mates…
"Quelle femme"… quelle Duchesse"…
"Quel homme"… quel Duc"…
Our admiration for them… is boundless…
Our warmest… congratulations.
Love… "Amor"… "Amour"…
DOES… vanquish…
Conquer…
All…
a.