Patrice de Colmont – his legendary "Club 55″… | Côte D'Azur Travel Series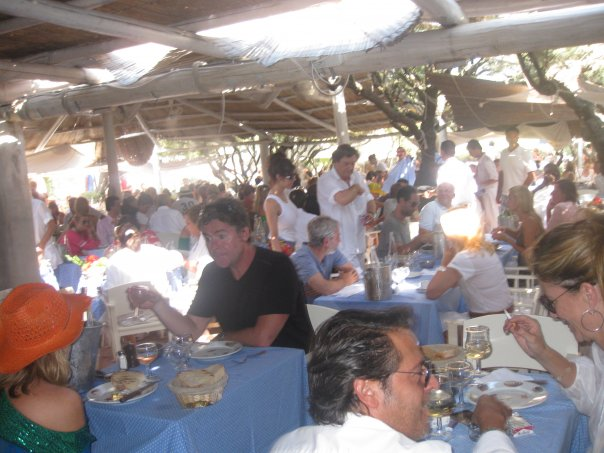 Patrice de Colmont…
"Propriétaire" of "Club 55″…
The most dazzling…
"Pearl of Pearls"…
We jump into our "quatre-quatre" and drive all the way to the legendary golden stretch of beach… the Pampelonne…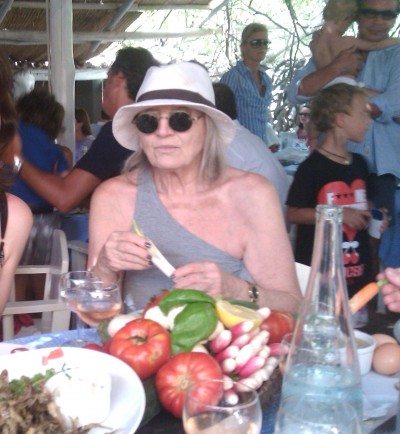 We're ever – so excited…
Elated…
Club 55 is definitely our favourite…
Not only for the beauty of the place itself…
Not only for the exquisite, yet simple cuisine…
But mainly to meet with our friend… the man himself…
Patrice… an amazing human being…
As owner of this astronomically successful establishment, with an "aristorcratic" name, he is of a… most humble nature…
He is calmness itself…
Sweet natured…
Yet in control…
"Quel homme"…
We're… so… so… fond of him…
We've been visiting his restaurant and beach for years, ever since our children were young… and are still regulars, now that they are – strapping young men.
We've had birthdays celebrated there, with the "spécialité maison" – the huge "tarte aux fruits rouges", decorated with sparklers, toasted with champagne while taking… photos and souvenirs.
We would jump with delight when we were served with our usual other speciality of the house, the succulent, magnificent plate of "gambas grillés"… after having nibbled our way through their colourful "plateaux de crudités"… (a platter of carved wood, with a delicious selection of fresh, local "provençal" vegetables piled high: tomatoes, cucumbers, celery, carrots, peppers, fennel, etc…)… which one dips into the tastiest of vinegerette sauce…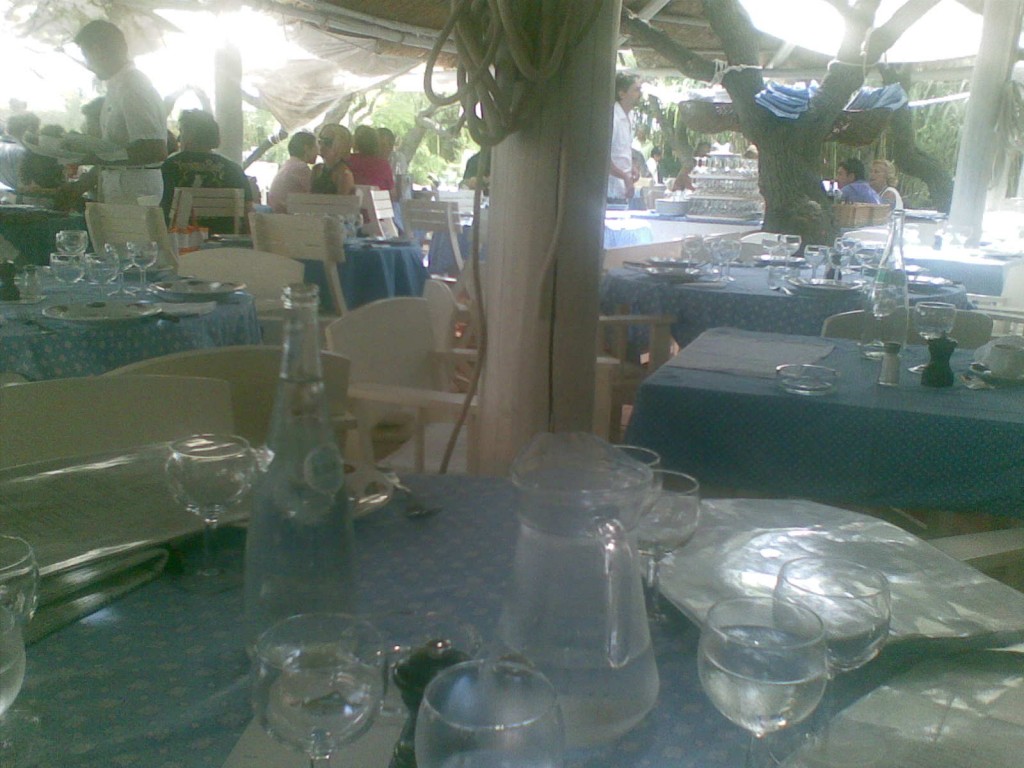 We are usually seated by Patrice next to the uniquely charming and beautifully designed bar, where people gather for a drink, before or after the sumptuous and delicious lunch…
Before I go any further, let me not forget to describe the utter magic of the place itself…
We enter into a large tent, made of white canvas, and held up by beams of "chataigners"… the outskirts are surrounded by shrubs, reeds, and trees…
Tables of white wood and divan-like seating , as well as chairs around tables that are square, oblong, and round – the larger ones seating up to twenty people – the smaller ones seating four. The pillows are striped blue and white, and are scattered on the benches and chairs under this amazing structure upholding the whole thing together…
Upon entering, we light up with joy when we spot Patrice… who is usually busy seating his clients – (he entertains up to 800 guests per day)… After exchanging hugs and kisses, we are escorted to our usual favourite table.
The buzz in the place is incredible…
Talking… chatting…
Laughing… gesticulating…
Drinking…
Toasting…
People of different nationalities are all gathered under the same eclectic structure, magicial ambience… with anticipation… and great expectation… of fun and pleasure…
Patrice does not dissappoint…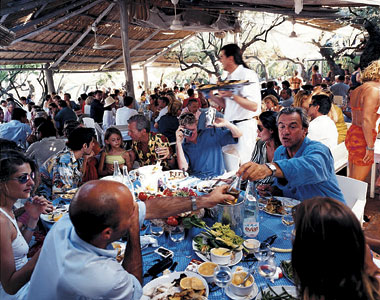 A magical experience…
A blissful one…
Wearing my white "Casablanca" hat and gray off-the-shoulder summer dress, I spot Charlotte Rampling with her partner… looking at me…
We smile at each other…
She's tall…
Slim…
She has aged…
Gracefully.
I like her…
International as well as local artists, intellectuals and politicians… the young and the mature… actors… celebrities… industrialists… tycoons… millionnaires… billionnaires… descending from their yachts, Jeeps, buggies… in their shorts and colourful shirts, hats, T-shirts, expensive "mocassins", fabulous watches… all are mingling together…
Having a grand time…
A fabulous moment…
Le Club 55…
"a vu défiler la Terre entière"…
Patrice treats all…
Graciously…
Delightfully…
Discreetly..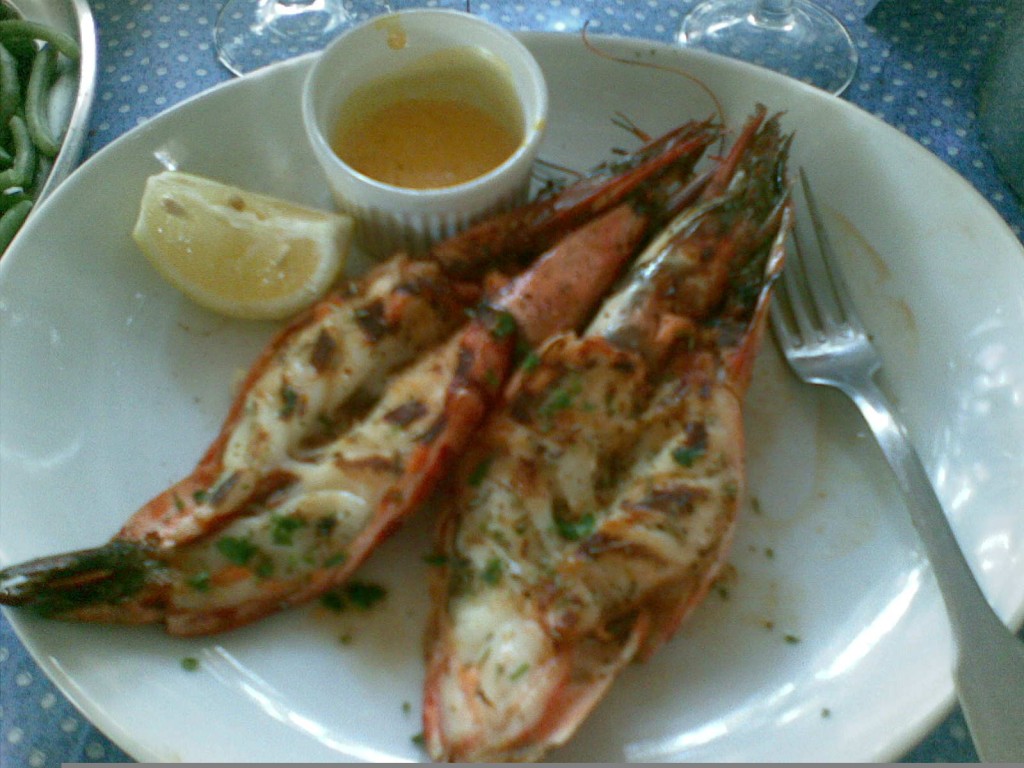 A perfect lunch…
Forget Ducasse…
Forget Yannick Alléno…
Bocuse… dare I say…
A simple cuisine that compares brilliantly with the most sophisticated so called… "glamour chefs".
Quel restaurant…
Quel "Club"…
A legend…
An iconic old address, founded by his visionary explorer father, and amazing mother, in 1955.
As usual, we are dazzled…
It should be fêted…
Honoured…
Club 55…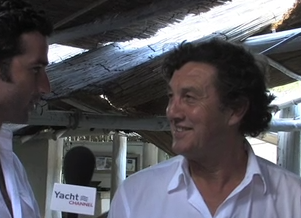 "Unique"… "Mythique"…
"Nous l'adorons"…
"Nous reviendrons"…
Patrice de Colmont…
You're darling…
A gem…
Until we meet again…
"A bientôt"…
"À l'année prochaine"…
a.