Ladurée… at the Champs-Élysées…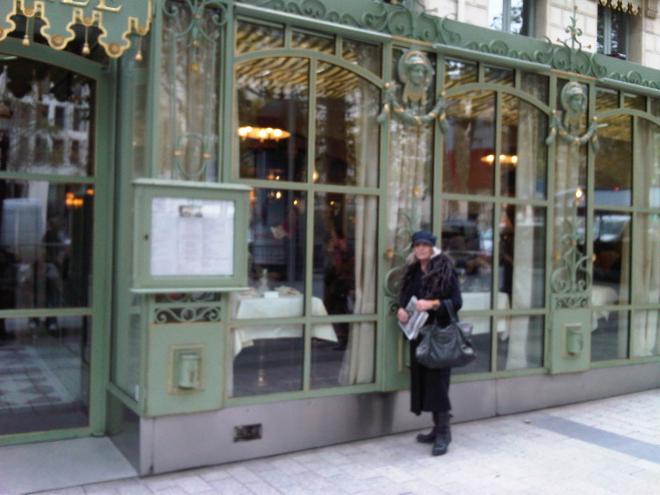 Ladurée… "Enfin"…
One of our best-loved… "Salon du Thé"…
On the… Champs-Élysées…
Has re-opened… its elegant portals to its…
Adoring… "clientèle"…

"Et… Voila"…

An oasis… of complete luxury…

It is a favourite… of Parisian ladies…
Who… lunch…

Among… others…
Ladurée had closed down shut its doors to the public… due to a fire that ignited in its bowels… flared up and devoured the two floors of this prestigious landmark…

It's been months since we or anyone of its legion fans… set foot inside the marbled floors… gold encrusted balustrades… not to mention the irresistible delicacies on offer… the by now legendary… Ladurée "macarons"… rows and rows of them…

In a myriad concoction of colours and flavors… from the mouthwateringly delicious vanille… chocolat… to the exotic saffron… cassis… raspberry… strawberry… pistache… and dark… nearly black… blackcurrent (a favourite)… with the delicately spread crème sandwiched between the two outer layers.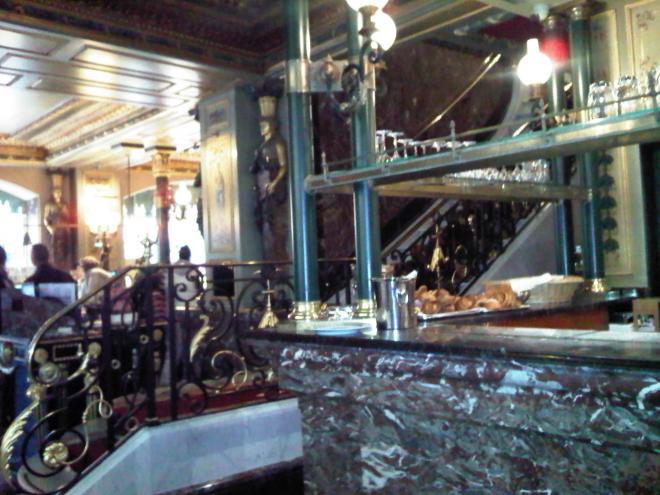 Sumptuous…
Scrumptious…

Heaven…

The "pâtisserie" is truly out of this world… along with its restaurant's elegant cuisine.

It all began in 1862 when Louis Ernest Ladurée… a miller from the Southwest of France… started a "boulangerie"… bakery… at 16 rue Royale in Paris… the year the magnificent… opulent… "Opera Garnier"… took residence in the important and elegant area surrounding the Madeleine.

Jules Cheret… a famous turn of the century painter was responsible for the decoration of the pastry shop of Ladurée… his inspiration was the painting technique of the Sistine Chapel and the Opéra Garnier… adding depth and relief to the "décor" of this beautiful Parisian café… one of the first "Salon du Thé" in town.
Ladurée… attracted Parisian high society then… it still does to this day.

In 1997… the present owners David Holder and his father Francis… opened a new prestigious address on the Champs-Élysées which is…
Breathtakingly… beautiful…

In this century-old name in the City of Light… their mission…
"To bring back the great classics, which have contributed to the reputation of this 'Salon du Thé', as well as create an environment for gastronomic activity in Paris."

Having become one of the most elegant "Salon du Thé" in Paris, Ladurée now has many branches in the main capitals of the world… like London, New York, and Tokyo to name a few…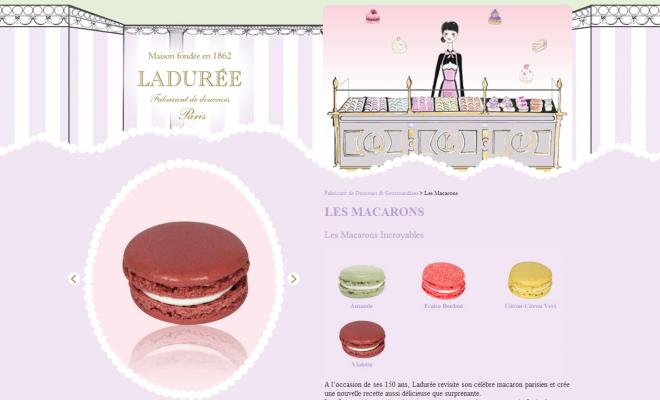 Visiting our much-loved… coveted Ladurée recently…

We… were aware…
Of its… legendary historic… regained…
Opulence… and beauty…

The… founder…

Louis Ernest Ladurée…

Would… be…

More… than…
Proud…

Of… his…
Delectable…

Enchanting…

Ladurée…

a.