Carmen Dell'Orefice… A Model of Substance…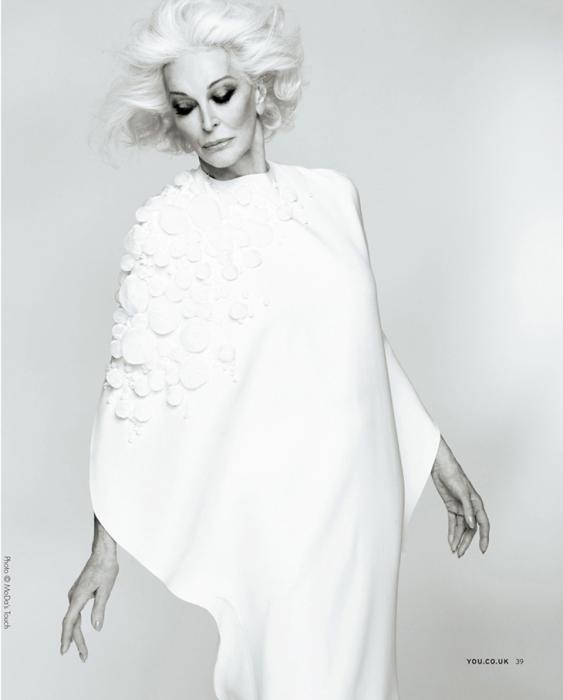 Carmen… Dell'Orefice…
Is still… "strutting…

Her… stuff"…

At… 82 years of age…

The… legendary model…

Is… still…

Incredibly… amazingly…

Striking…

Tall… slim… (what else)…

Trademark… silver hair…

Killer… cheekbones…

She… is iconic…

The daughter of an Italian immigrant and Hungarian mother… she was spotted at thirteen getting off a bus in her native New York City…

Having modelled for Salvador Dalí… she went on to be photographed by the most "celebrated photographers of the 20th century"… the likes of Cecil Beaton… Norman Parkinson… and most dramatic of all… Richard Avedon…

She is to this day… walking the catwalk for… Gaulthier… Mugler… and recently at Paris Fashion Week for… Stephane Rolland… as well as doing campaigns for luxury brands like Rolex…

Her ethereally haughty imperious demeanour… belies the fact that she is in fact the product of humble beginnings…

She initially modelled… to help her impoverished parents…

Carmen's three marriages collapsed but she was never without lovers… of whom she's had many…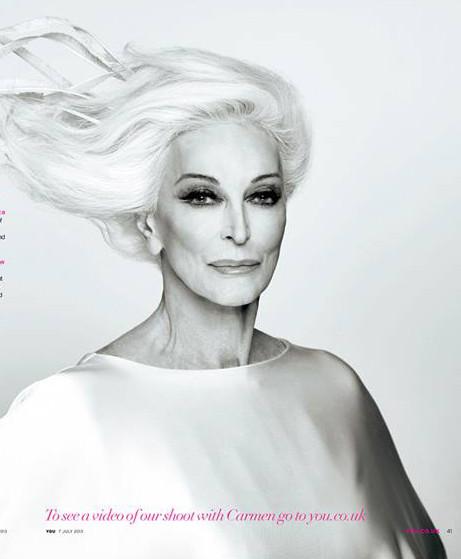 Her memoirs… which she is currently writing should be fascinating…
She muses…
"I do want to live everyday… rather than fear the inevitable"…
Her take on life…

"It took me half my life to understand who I was. How could I be true to anything when I didn't know myself? I am able to be truer and truer with myself the older I get, but I am still a work in progress. You don't have to like me, but I'm not going to please someone for the sake of their approval".

About today's models…
"There is a lack of refinement, there is no romance. Everything is a vulgar description of life – it is so sad".

About men…

"Over the decades, a few men of great substance wanted to marry me, but alas I was not in love with them, so my lifestyle in the end stayed happily in my hands".

Carmen… Dell'Orefice…

A… model…

Of… substance…

An… extraordinary…
Living…
Legend…

"Quelle… femme"…
a.

Source: You magazine, Moda's Touch