Paris will.. Always be.. Paris…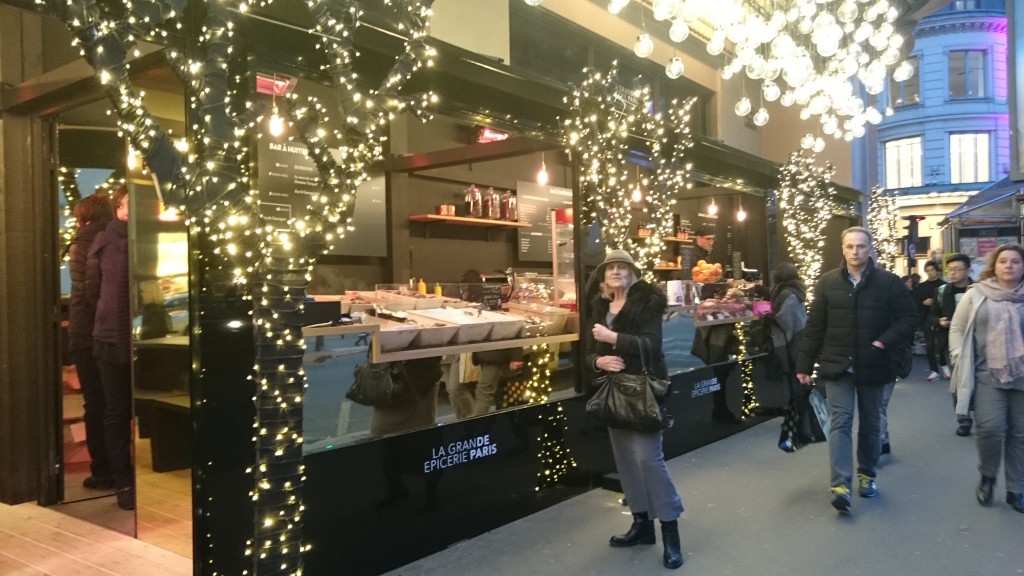 In spite… of the recent…
"Atroce.. barbare"….
"Paris… sera…
Toujours… Paris"…
Walking down our charming.. rue du Bac… in Saint-Germain-des-Prés.. which we have greatly missed.. was a delight… having been strongly advised by the police not to venture out too much.. during the time Paris was under temporary siege of terror.. and in a state of emergency…
Our much-loved "rue intime"… flanked on both sides of the "trottoir" by little boutiques and cafés… all lit up with twinkling lights on Christmas trees…
With chocolatiers.. pâtisseries… flaunting their exquisite delicacies… taunting us with temptations of deliciousness…
Arriving at Le Bon Marché Rive Gauche… we're dazzled by the luminous décor of "Un Noël Enchanté"…  An enchanted Christmas…
Huge Christmas trees with gold baubles hanging down from dark green leaves… an oasis of imagination…
"Un Rêve.. Rive Gauche"…
Women were shopping "en force".. with a bewitching elegant lady carrying her adored little "chien" in her designer bag.. while trying on a lovely fur hat…
"Fascinante"…
Stepping out.. our spirits soared with the festive "ambience"… an agreeable universe of bonhomie… great expectations of coming days… heading towards an enchanted Christmas…
We… can…
Dieu… merci…
Dream… again…?
Un… rêve…
De… Noêl…
In the words of the delightful.. Maurice Chevalier…
Paris will always be Paris
The most beautiful city in the world
For all the deep darkness around
Her sparkle cannot be dulled
Paris will always be Paris
The more you subdue her lights
The more you see her courage shine
The more you see her wit sparkle
Paris will always be Paris…
"Paris… sera…
Toujours…
Paris"…
a.