Celebrating with Irina Bokova at UNESCO…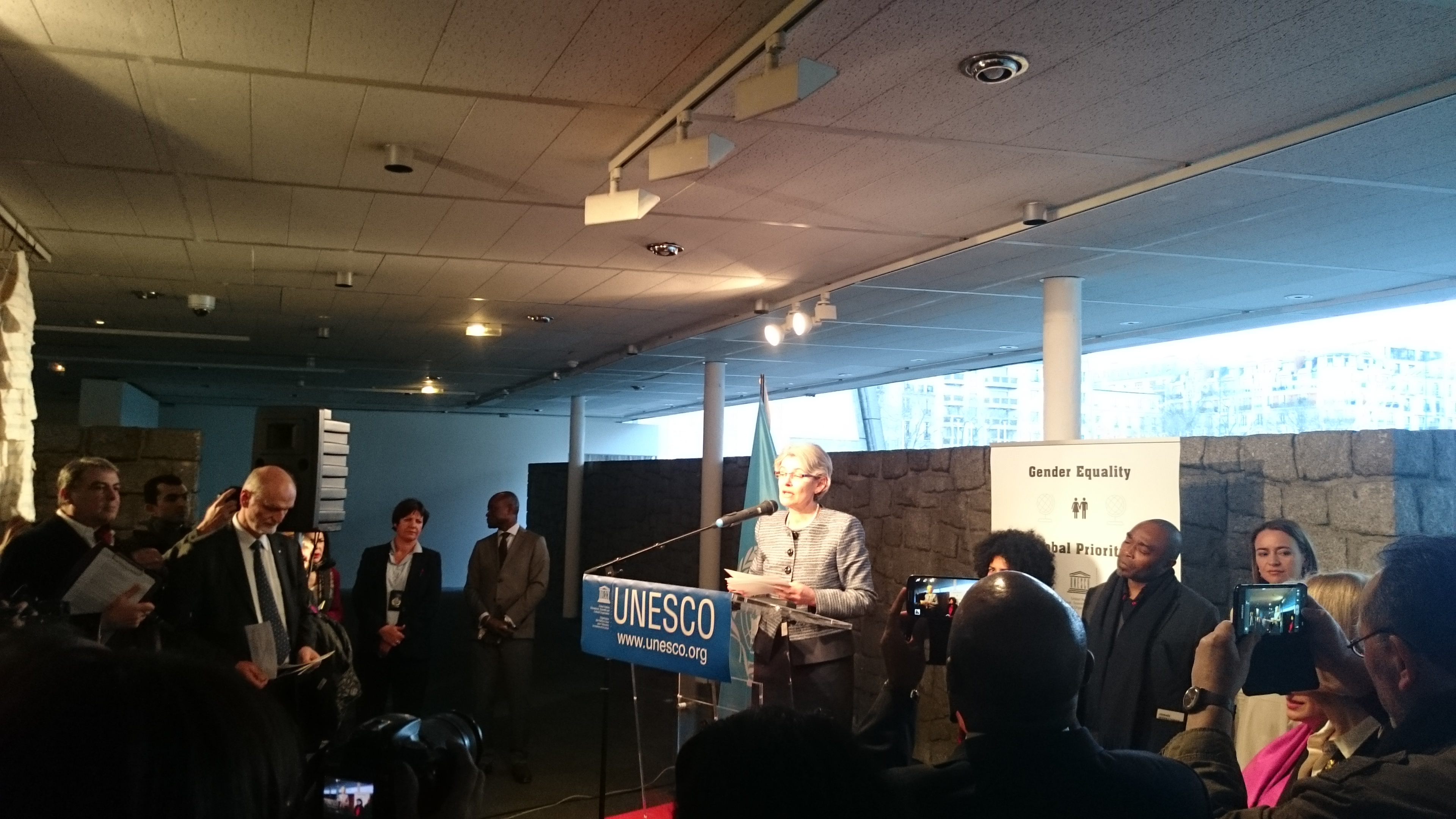 I was invited to attend an art exhibition recently.. not any ordinary art exhibition.. it was one held at UNESCO headquarters in Paris.
Having lived many years in Paris, the presence of the United Nations Educational, Scientific and Cultural Organization in the City of Light did not impact our everyday Parisian lives… its myriad annual conferences and exhibitions were not listed in the usual weekly or monthly event calendars of the city.
So it was with slight awe and trepidation that I navigated my way through the large and imposing boulevards of this formal side of the 7e arrondissement of Paris, to reach the Place de Fontenoy.. where the sprawling site, with its central modern building, is considered international territory and belongs to the Organization's 195 Member States.
Having passed through security, I was directed to a large space where the UNESCO "Women's Role in Sustainable Development Exhibition", in honour of International Women's Day 2016, was taking place.  Organised by the Division for Gender Equality at UNESCO, in collaboration with nine Permanent Delegations of Member States to UNESCO (Armenia, Cuba, Dominican Republic, Bangladesh, Ukraine, Togo, Bahrain, Turkey, and Egypt) to reflect on women's role in sustainable development, the art exhibition was comprised of fifteen mostly female artists, who apart from being renowned in their region and internationally, have also been commended for their work relating to women's role in sustainable development, gender equality, and social justice.
"In the past, women's roles, contributions and perspectives were largely absent from sustainable development literature and policymaking. However, there is now key evidence to support that empowering women is an integral part of and precondition for sustainable development. This exhibition takes a fluid approach on how women identify and examine their role in sustainable development."
This collective art exhibition is just one part of UNESCO's celebration of this year's International Women's Day, whose theme in 2016 is "Planet 50-50 by 2030: Step It Up for Gender Equality", given that during this past year the world came together to agree on "Agenda 2030 for Sustainable Development" and the "Paris Climate Change Agreement", with gender equality being at the heart of this agenda.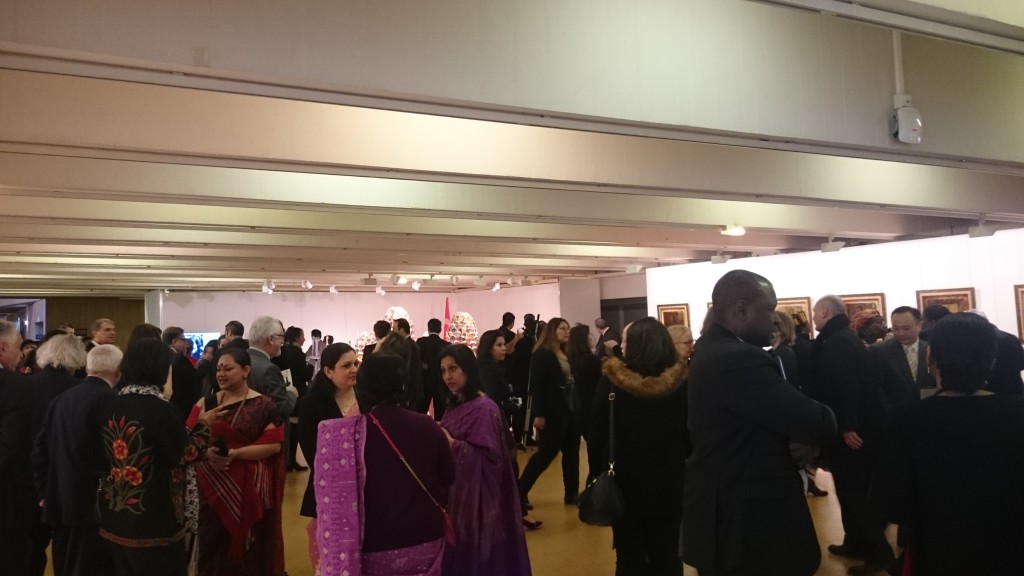 A while later, we were ushered into an adjoining conference room, where people were gathering around an empty podium, with a stand and microphone in the centre waiting in anticipation, and a large UNESCO banner behind it as a backdrop.
As an ever-growing crowd assembled around the podium, I saw a slender woman with short peppery hair arrive shaking hands with officials from many of the delegations, posing to take photos with them.  I did not know who this woman was, but as she gradually made her way to the podium, surrounded by the thick multi-national crowd, I began to realise that this slightly fragile-looking woman was none other than the Director-General of UNESCO, Irina Bokova.
Mrs. Bokova, a Bulgarian politician and former member of the Bulgarian parliament, one-time deputy minister and acting minister of foreign affairs,  previously Bulgaria's ambassador to France and to Monaco, Permanent Delegate of Bulgaria to UNESCO and personal representative of Bulgaria's president to the Organisation Internationale de la Francophonie, has been since the 15th of November 2009 the tenth Director-General of UNESCO, and the first female and Eastern European to head this UN agency.
As Director-General of UNESCO, Bokova is known to be actively supportive of international efforts to advance gender equality, women's empowerment, girls' education, and has taken a strong stance on the fight against extremism and terror financing. She's also a firm opponent of racism and anti-Semitism.
Looking at Mrs. Bokova standing in front of me on the podium as she started addressing the gathered delegates and guests, I found myself face to face with that rare bread: a woman world leader – a role model to be inspired by… here's the entirety of her message, in celebration of International Women's Day at UNESCO, as I think the points she brings up sum up a lot of the issues at stake :
"2015 saw countries across the world agree on the new 2030 Agenda for Sustainable Development and the Paris Climate Change Agreement. For UNESCO, these are a single agenda for advancing human rights and dignity, for eradicating poverty, for protecting the planet. Promoting gender equality stands at the heart of this 2013 agenda, as a basic human right and a transformational force for more just, inclusive and sustainable development. This is why the theme for the 2016 International Women's Day is 'Planet 50-50 by 2030: Step It Up for Gender Equality.' 
Promoting gender equality is a Global Priority guiding all of UNESCO action in education, the sciences, culture, communication and information. These objectives underpin UNESCO's efforts to widen new opportunities, especially through education, on the basis of such initiatives as the Global Partnership for Girls and Women's Education, and the activities supported by the Malala Fund for Girls' Right to Education.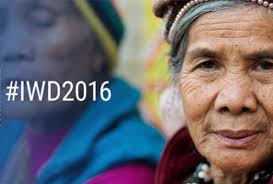 UNESCO's work is one of partnership, across the United Nations system, working ever more closely with UN Women, as well as with the private sector, reflected in the longstanding L'Oréal-UNESCO for Women in Science programme, to support girls and women into scientific careers.
We have seen progress across the world – but steep obstacles remain before genuine equality for all girls and women. The new global agenda will succeed only if every country advances the rights, ingenuity and innovation of every one of its citizens, starting with girls and women.
This will be addressed in the 60th session of the Commission on the Status of Women, coming under the theme of 'Women's empowerment and the link to sustainable development'. This topic is especially timely in the context of the twenty-year review and appraisal of the implementation of the Beijing Declaration and Platform for Action, and the adoption of the Addis Ababa Action Agenda and 2030 Agenda for Sustainable Development.

Taking this forward means accelerating momentum towards gender equality and the empowerment of every girl and woman. 2016 is a pivotal year, when we must implement a new vision that builds on lessons learned and outlines new actions to tackle new and remaining challenges. In this spirit, I call on Member States and all partners to join forces to Advance gender equality in every society. There is simply no greater force for justice, sustainable development and lasting peace."
Irina Bokova's firm belief that "gender equality stands at the heart of the 2030 agenda" was certainly acted upon recently, for the 60th session of the UN Commission on the Status of Women concluded last week in New York, with UN Member States committing to the gender-responsive implementation of Agenda 2030, and reaching agreement on the foundations to accelerate action for all women and girls: A set of agreed conclusions called for enhancing the basis for rapid progress, including stronger laws, policies and institutions, better data and scaled-up financing.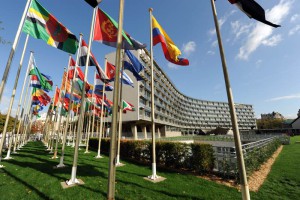 Having admired the exhibited artist's paintings and artworks, enjoyed the company of the many international delegates at the exhibition, and sampled the cuisine of their represented countries, I left UNESCO headquarters uplifted and empowered by Irina Bokova's message that with gender equality being a "transformational force for more just, inclusive, and sustainable development", there is hope yet for this troubled world.
As I started making my due-diligence research for writing this article, I was most pleasantly surprised… I found out that in June 2014, the Bulgarian government nominated Irina Bokova to be the official candidate of the country to succeed Ban Ki-moon as the next U.N. Secretary-General in 2017, and on the 9th of February 2016 the Bulgarian Foreign Ministry announced that her candidacy for the top UN job has been officially submitted to the United Nations for consideration.  Not only that, it seems "she is widely believed to be the frontrunner for that position".
On the 9th of October 2015, an article in Forbes magazine featured an article on Irina Bokova entitled: "This Woman Will Likely Be The Next UN General Secretary" and it states:
"In person, she's intensely attentive and soft-voiced. Deceptively driven in fact, and a seriously good listener, a virtue she will need in abundance as General Secretary. Above all, she comes across as a passionate idealist. You get her talking about the depredations to Palmyra and her eyes flash with determination."
Boy am I inspired now…
L.