Elodie Garamond's Le Tigre Yoga Club…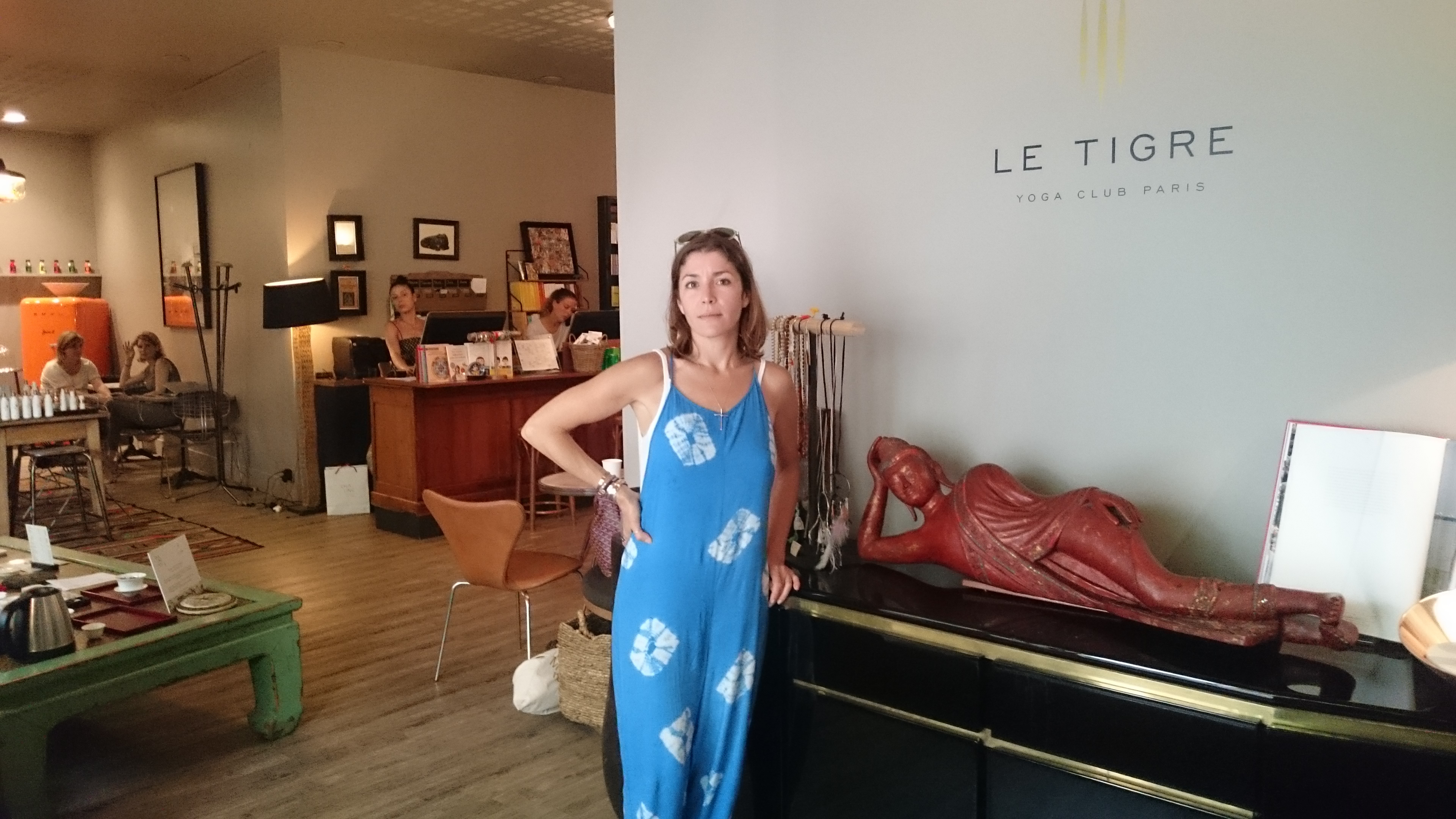 As someone who's experienced a major professional life change – in my case from the rigid but secure banking, to the more fulfilling yet hazardous terrain of creative entrepreneurship – I was fully cognisant of the path that Elodie Garamond has tread, from high-flying communications executive to founder and director of Le Tigre Yoga Clubs, in tandem with juggling the joys and pressures of marriage and motherhood.
Having made an appointment to meet Elodie at her first Le Tigre club in the 16eme arrondissement of Paris on a scorching summer's day, I stopped to catch my breath in the airy courtyard outside the entrance..  As I gradually made my way to the door, I nearly bumped into an attractive tall, blonde woman in gym gear emerging from the premises, busy conversing with a traditionally dressed yoga instructor.. it was only as I passed her that I realised who she was: a well-known French actress whom I have admired since my early years in Paris, when I had lived and worked as a banker in the City of Light.
As I entered the portals of the club, the first thing I noticed was the statue of a large reclining Buddha in the entrance.  As I then surveyed the interior of the space, my initial impression was that I had entered a private gathering in someone's home.. as if I had slightly intruded on the clusters of casually dressed women sitting together, drinking green tea in the various cosy corners of the stylishly decorated space.  Comfortable banquettes with plenty of cushions and a low exotic pastel-green coffee table on one side.. café-like tables and chairs on the other.. a beautiful steel-gray linen-covered corner sofa with bookshelves full of books on yoga and healthy living behind it, and amidst all that, a mini boutique offering fashionable yoga gear and mats. On the far side, a cantine with a central communal table where one can have a healthy bite and sample the cold-pressed bio fruit juices on offer by Juice It.  And overseeing all these delightful "coins", the wooden reception desk where efficient looking young ladies were at their computers busy talking.  I went over to a medium-sized, good-looking fresh-faced softly tanned woman, wearing an azuré-blue summer "salopette", to announce myself.  I was pleasantly surprised to discover that this was the owner Elodie Garamond herself.  She graciously invited me over to the charming corner "salon" to have our chat.. it already felt like home.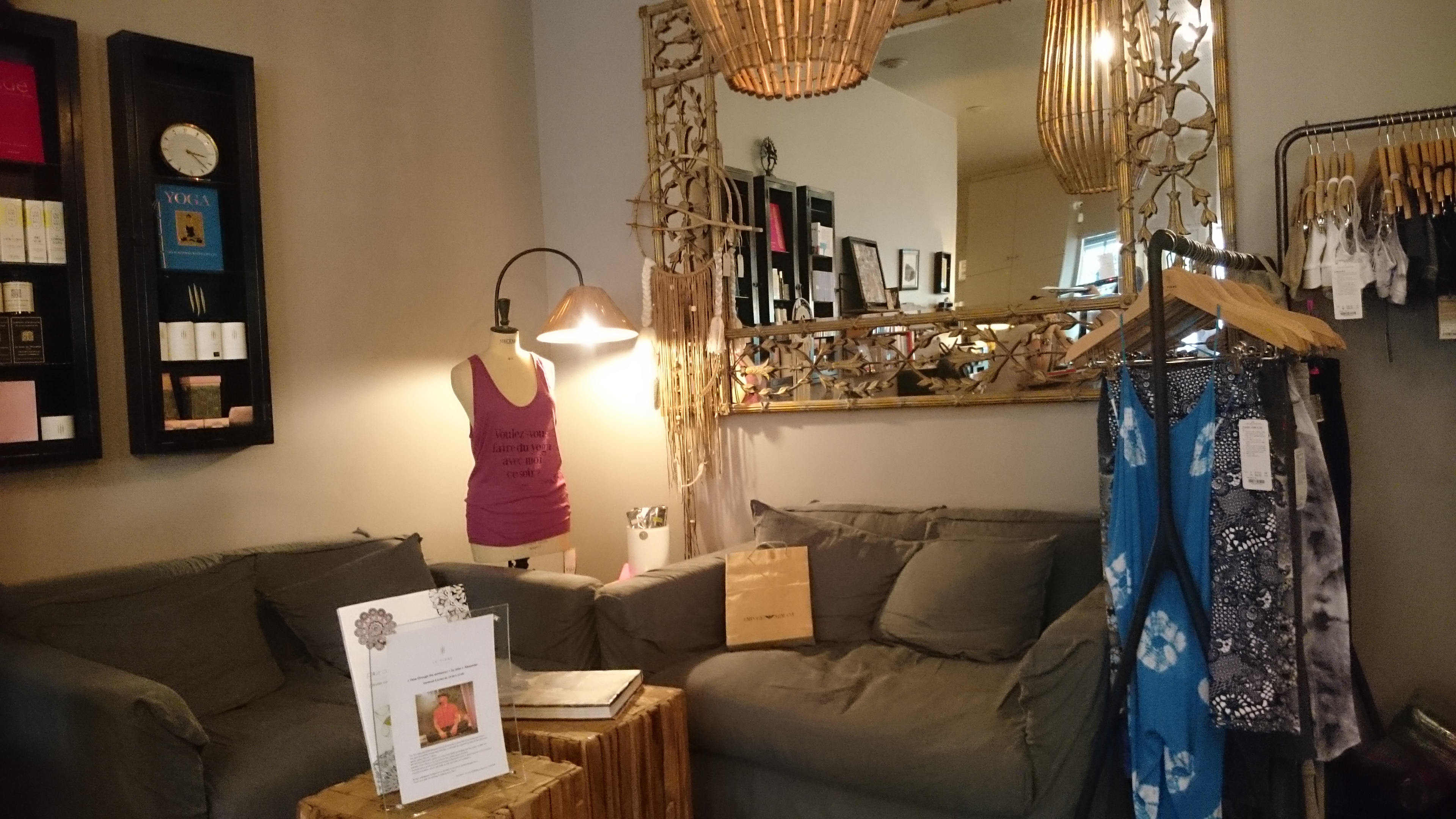 We started in French, then switched to English.. I had explained to Elodie previously via e-mail that I was interested in starting Yoga classes, but was also keen to finally take up formal Meditation classes (as opposed to the semi-successful 10 minute attempts before bed-time), in an an effort to pursue more seriously my heart-felt intention to move forward with my wellbeing and spiritual practices.
Elodie listened to me with care and poise and then proceeded to give me her suggestions and recommendations.  Le Tigre Yoga Club has two centres in Paris, the original in the 16ème (her baby), and the more recently opened one in the fashionable 6ème arrondissement, just as stylishly decorated and well-equipped as the first.  As we spoke, she informed me that she had just opened a new branch in the (seriously wealthy) suburb of Neuilly-sur-Seine and was about to inaugurate a space in the Hôtel Barrière Le Normandy in Deauville.
I enquired further about the availability of Yoga and Meditation classes in English, for the benefit of my Anglophone friends, which I learned are indeed scheduled in each of their centres, albeit at a less frequent rate than the French ones.. it seems private group classes in English, if so required, could also be arranged.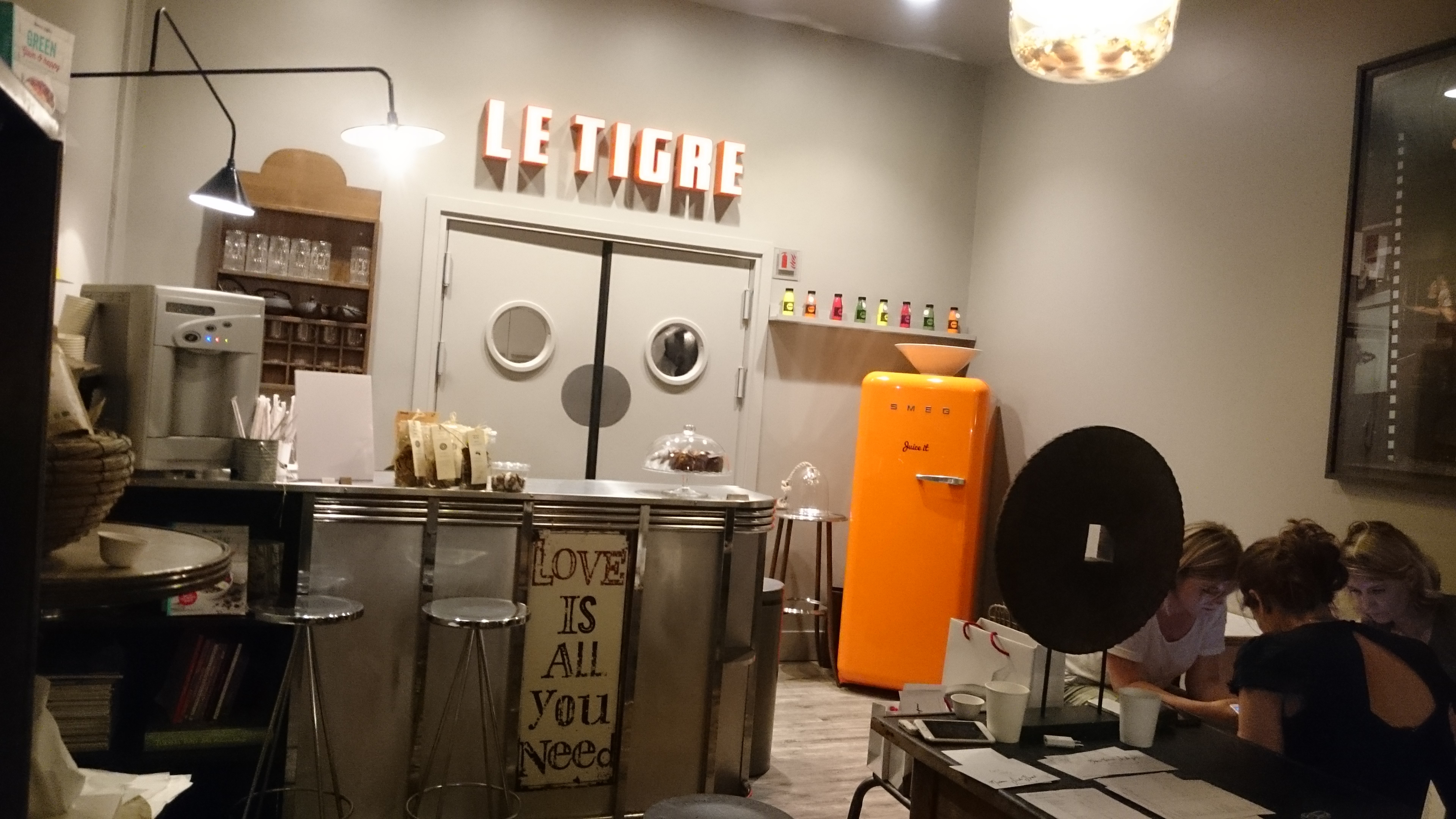 I was given a timetable filled with Yoga classes bearing names such as: Ashtanga, Vinyasa, Hatha, Yin, "Kundalini & Gong", Vibhava, etc.  Other Fitness courses included Pilates, Swiss Ball, "Barre au Sol".. all of various levels.  Also "Mindfulness" courses were on offer, such as "Pranayama & Meditation", Tai Chi, Qi Gong.  The choice is dizzying…
The Tigre Yoga Clubs also have their own dedicated children's section called "Le Mini Tigre".. I can't imagine anything more beneficial to our society than starting the new generation off in the practice of Yoga as early on in life as possible.
Given that I was never an avid follower of the myriad exercise and dance classes I have taken along the years with my friends since high school, I wondered whether now, as an older, slightly out of shape mother of two sons (except for the immense pleasure of walking around in Paris), one needed to be in any particular shape to start practising yoga.  Elodie responded that, thankfully, one does not need to be particularly malleable beforehand.. that this will come gradually with practice.  She did, however, inform me that one does have to fill in a health questionnaire, as well as provide a doctor's certificate before commencing classes at Le Tigre.  Given my distaste for visiting doctors and their sometimes rigid methods (anyone know of a good Alternative or Ayurvedic medical practitioner in Paris?), I'm sure it will take me until the "rentrée" before I fulfil that obligation, in order to be able to officially start my yoga classes.
As I was scrolling through Instagram a few days ago, I came upon a post by Le Tigre Yoga Club with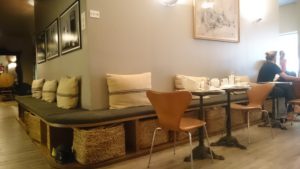 a collection of small photos showing a slim figure simply dressed in leggings doing various advanced yoga postures in a lush green country setting.. I eventually recognised the youthful face.. it was Elodie Garamond doing her early morning "asanas" in her last day at a reputed Ashram in India.  I liked that… this showed someone not merely attracted to the urban-cool, trendy side of Yoga, which is so prevalent these days, but rather someone dedicated to the more profound spiritual aspects of the practice.. something which I myself am profoundly interested to explore.
Elodie Garamond has previously gone on record in French describing Yoga as such: "il ne s'agit pas juste d'un sport, mais d'un style de vie, d'une philosophie, d'une pratique".
I fervently hope that Elodie's Le Tigre Yoga Club will become a part of my lifestyle.. a home away from home.. à la rentrée.
L.