"L'Hôtel George V – Un Diamant… à Paris"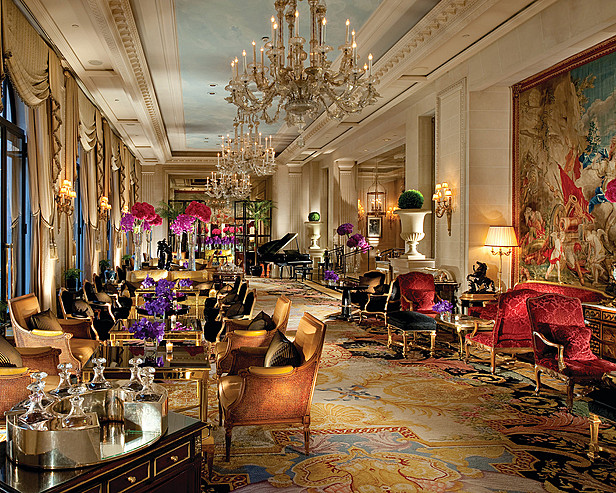 "L'Hôtel George V"…
Beauty… of beauties…
The… Liz Taylor… of Hotels…
Like a… Diamond…
IT… DRIPS…
GLAMOUR…
Walking into its… marble-floored lobby… one is immediately transported… into a world that…
EXUDES WEALTH…
Furnished in the Louis XV style… with the magnificent many splendoured chandeliers… overlooking… the priceless "objets d'art"…
The George V… is…
Opulent…
Luxurious…
Extravagant.
Constructed in 1928… by André Terrail… proprietor of "La Tour d'Argent" restaurant… and decorated in the 1930's style….
Ideally situated… "près des Champs-Élysées"… 31 avenue George V… 8eme arrondissement de Paris…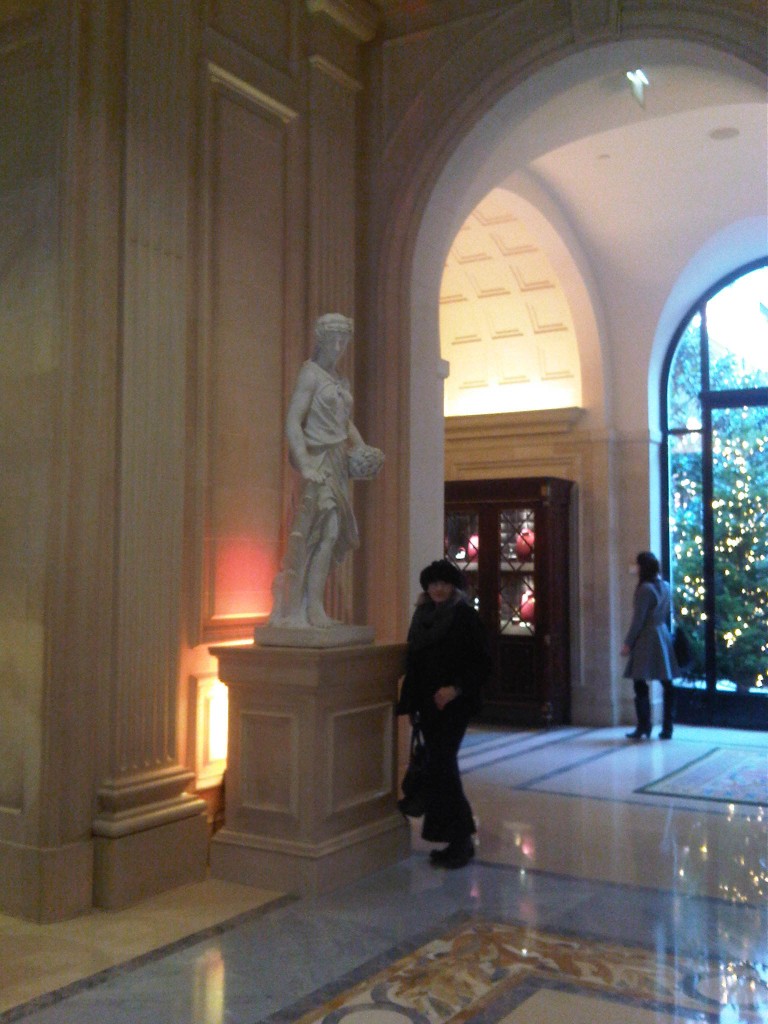 It is considered… one of the most prestigious hotels in Paris and is among the top hotels in the world… since its reopening in 1999 under… the Four Seasons Hotels & Resorts management and ownership by Kingdom Holding Company… (the investment company controlled by HRH Prince Al-Waleed bin Talal bin Abdul Aziz Al-Saud).
An eight storey building… 245 rooms… 59 suites… with views of the "Basilique du Sacré-Cœur de Montmartre" and the Tour Eiffel…
"La Galerie"… the "heart and soul" of the hotel… and the best place for people-watching…
A pianist… plays every afternoon at 3:00 p.m… where one can dine and have drinks… in the elegant atmosphere… decorated with beautiful Flemish tapestries… 19th-century paintings and furniture… as well as many exquisite "objets d'art"…
Fabulous…
"Le Cinq"… "restaurant gastronomique"… headed by "Chef cuisinier" Éric Briffard… boasts two Michelin stars.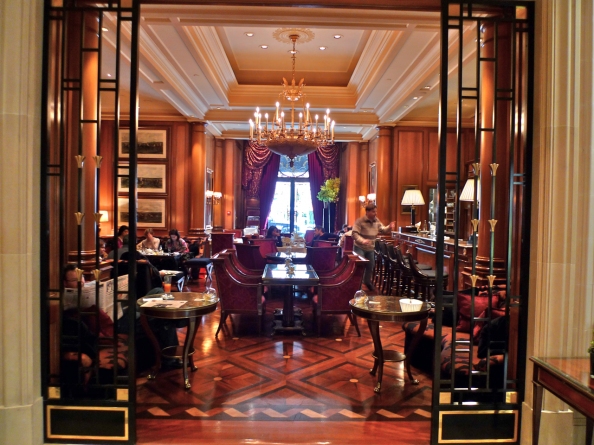 Christopher W. Norton… the General Manager and Regional Vice-President is to be… commended for the level of excellence in the hotel's impeccable and friendly service…
As well as his undoubted passion for Paris… the city he now calls home…
"Paris is probably the most sophisticated destination in the world"… he says… "It's an honour to be working here, not least in such a legendary hotel".
Norton is most proud of… "having run hotels that were voted best by my guests to stay in… and best by my staff to work in".
Admirable…
"Le Bar"… is one of our favourite features of the hotel…
It is… good looking …
It is… Stylish…
Dimly lit…
Romantic…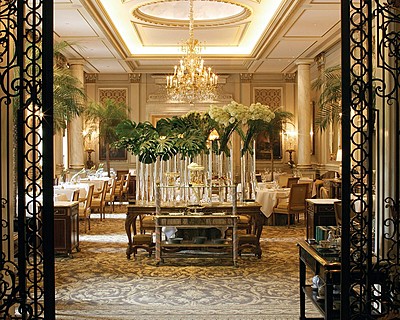 Drinks are excellent… generous "hors d'oeuvres"… crushingly delicious nuts… are… pure pleasure…
We were also impressed by the… strikingly decorated courtyard…
The out-door garden… filled with layers of large and small Christmas trees… lit-up with magical twinkling lights was… awesome…
Breathtakingly… lovely…
Thrilling…
As if all that is… NOT ENOUGH…
The Four Seasons Hotel George V Paris… has been officially awarded the rating… of a… "Palace"… by the French tourism authorities…  This distinction… has been offered for the hotel's dedication and hard work in making it one of the top hotels in the world…
The hotel… was also voted "Best Hotel in France"… by Condé Nast Traveler…
General Manager… Christopher Norton… commented…
"The "Palace" distinction is an additional motivation to make us pursue our constant goal of perfection and continue to position the Four Seasons Hotel George V as a leader within the worldwide hospitality industry".
The prestigious George V… decorated by the brilliantly creative in-house floral designer Jeff Leatham… with nine thousand flowers weekly…
Was frequented by the
Great and legendary…
Greta Garbo…
J.P. Morgan…
Marlene Dietrich…
More recently by… Angelina Jolie… who loves it for its "children friendly" policy.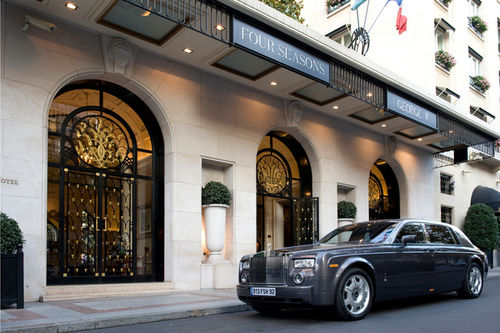 "J'ADORE"…
Dressing up in…
Drop-dead glamour…
And walking into… the world of… LUXURY…
THE…
"Hotel of Hotels"…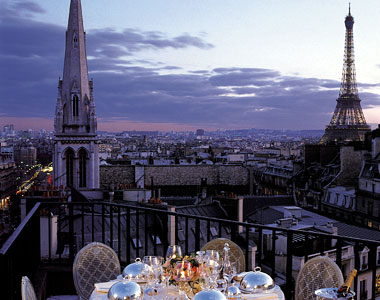 Where one feels…
Fabulous…
Glamorous…
Gorgeous…
"L'Hôtel George V"…
"Vous êtes un…
"DIAMANT"…
à Paris"…
a.