Saint James Paris… Pure Theatre…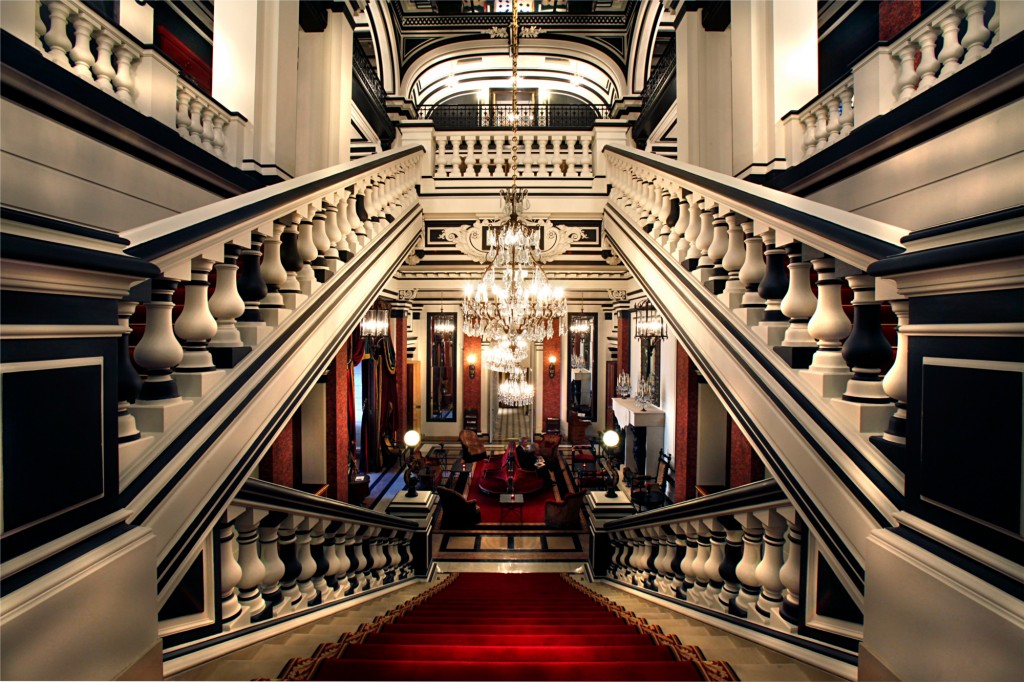 Saint James… Paris…
We had a…
Rendez-vous… with…
Visconti's… "The Leopard"…
Joséphine de Beauharnais'… panther décor…
Madeleine Castaing's… visionary designs…
Napoleon III… style… at the…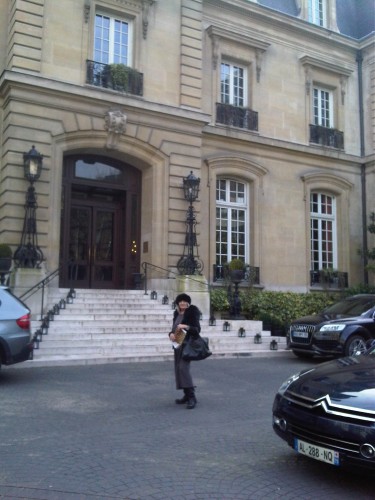 Hotel Saint James…
But… above all…
With the… incredibly creative…
Unorthodox… interior designer…
Bambi Sloan…
"La famille Bertrand"… the proprietors of the hotel… took a risk in adopting an original and unique décor by… the daring and eccentric "décoratrice"…
They were rewarded… by her giving them… pure magic…
Bambi Sloan…
Raised in New York… with a French/American background… studied Art at the Fine Arts School and Arts Deco School in Paris, and the Graphic Arts School in New York…
Bambi… worked in advertising agencies and major US magazines… setting up a fashion PR and events agency…  A multi-talented bohemian-surrealist… an original… she has undoubtedly invented the term… "crazy chic" style… and… what Style…
"Every time, Bambi takes over the premises, gives them a special kind of spirit, and creates a wholly unexpected universe sprinkled with eccentricity and humour"…
She has truly succeeded in incorporating an elegant eccentricity… by redecorating the Saint James Paris… into a… uniquely charming yet luxurious venue…
At the invitation of a handsome American from Dallas… we first made our acquaintance with this magnificent establishment…
Tall… slim… with the bluest eyes… we met the dynamic businessman in the huge impressive library of the hotel… where we had a lovely… "p'tit déjeuner"… before our meeting.
The Saint James was… posh… old world… then…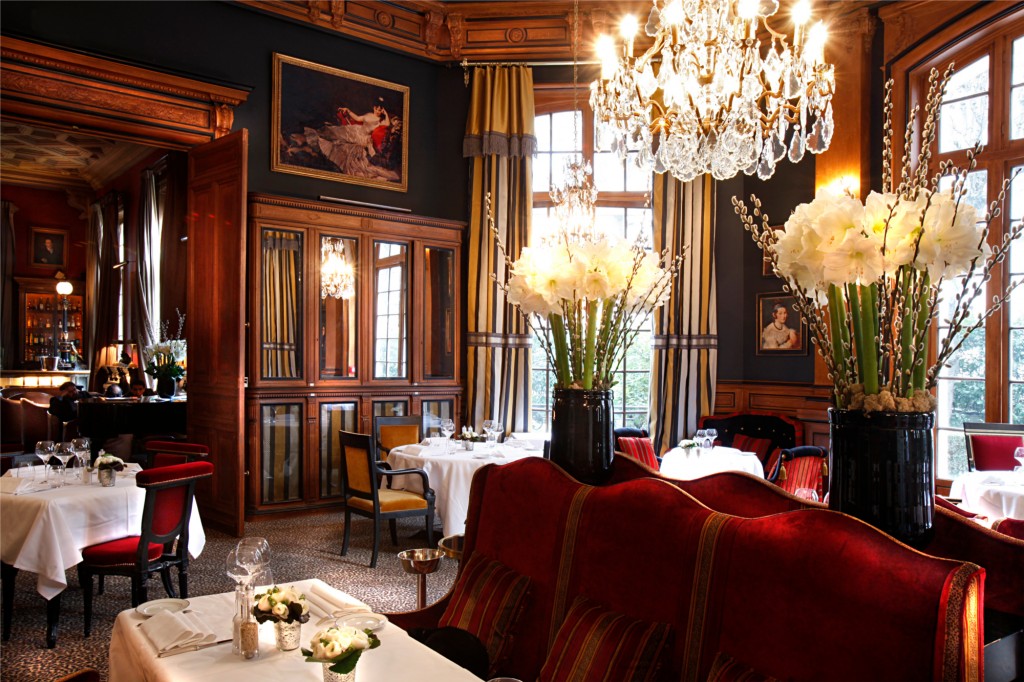 Grand… traditional… it left an indelible impression on our memory…
However… today… as we were met by… Laure… the very gracious "Directrice Adjointe"… we were struck by the amazing transformation… of this most beautiful and exclusive of Parisian hotels…
We were… impressed…
Plunging… into the awesome lobby… we were transported into… another dimension with a… "My Fair Lady" and Ascot… feel…
Black and white décor… a majestic double stairway… leading to a stunning ceiling of… diamond-like square mirrors… randomly-striped stairway balusters… with a dazzling cluster of chandeliers… hanging from the haughty high ceiling… splashing a million facets of light… upon the burgundy-red carpeted stairway and theatre-like lobby.
So very… glamorous…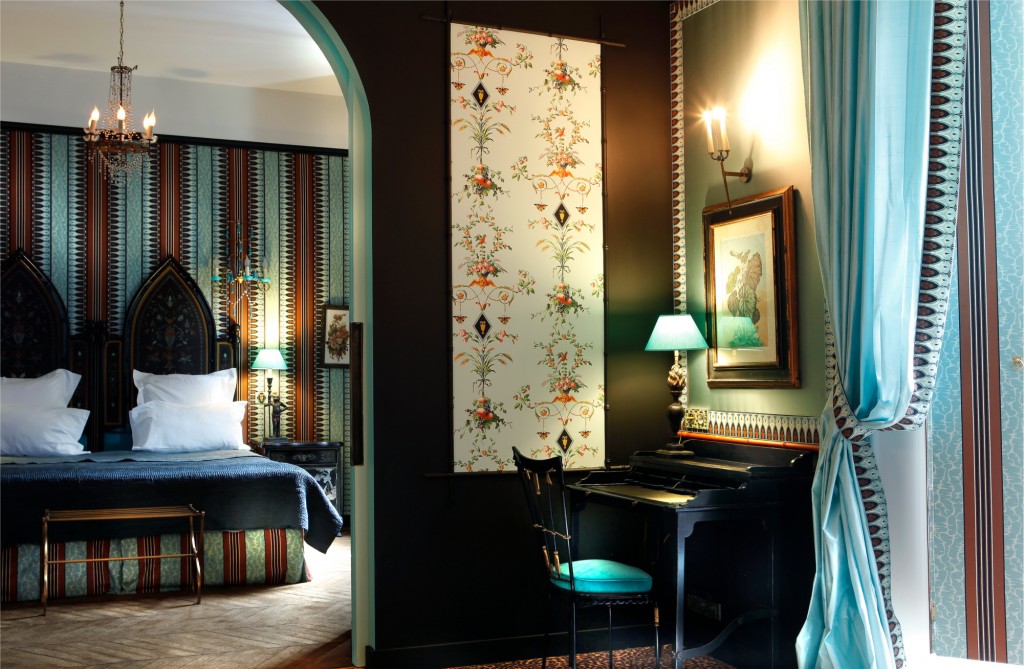 Pure… theatre…
Climbing up the stairway… we are invited into one of the suites… through the red-lacquered doors… "comme un"… stage set… each suite has a unique and challenging décor… the striped flannel and English fabric… with a whiff of Magritte thrown in… was the John Steed… "The Avengers" suite…
One can only be astonished… by the originality and the… perfect coordination of colours and pieces of furniture…
Dramatic…
Masterful…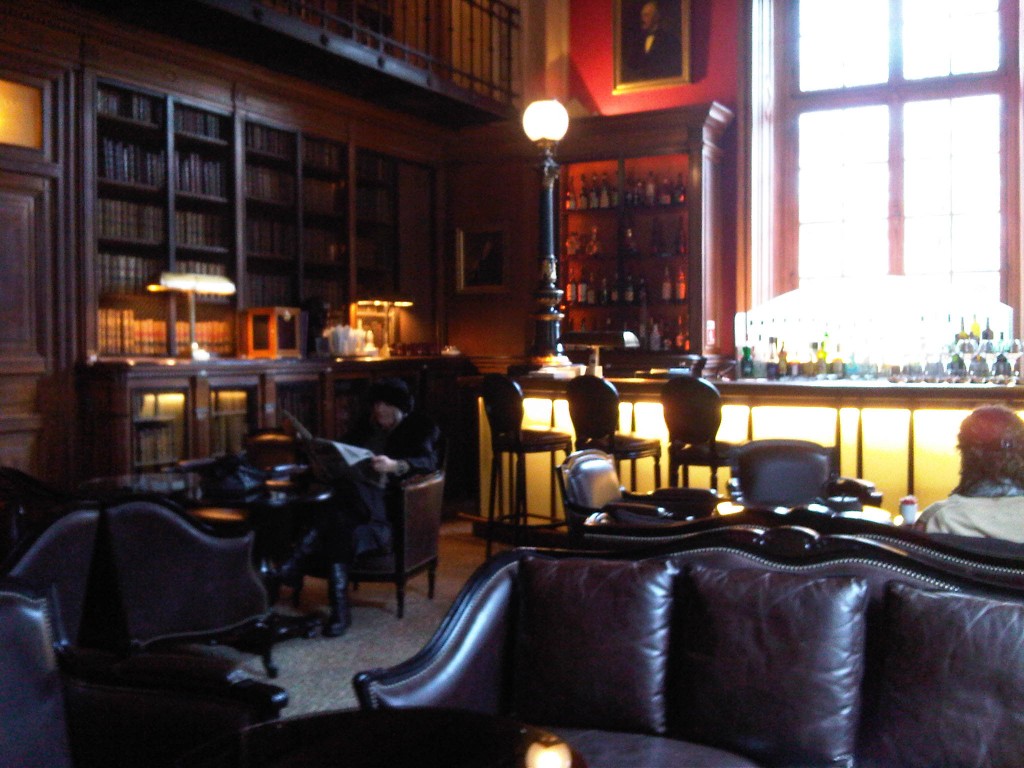 The panther carpeting… the damask velvet drapes… all blended into… "fiction and reality, and historical, movie and literary references"…
Bambi's clever choice of… highly personalised pieces of furniture… some of which were acquired by bargain-hunting at Paris' flea markets… paying special attention to the delightfully customised light switches in Leopard print… among many other details… adding a touch of humour and sentimentality… to each room.
She has an unfathomable imagination… enabling her to create a universe… sprinkled with wit… eccentricity and humour…
The elegant dining room… with its Napoleon III style furniture… fabulous Leopard carpeting… family paintings… hanging from the regal walls… a splendid chandelier…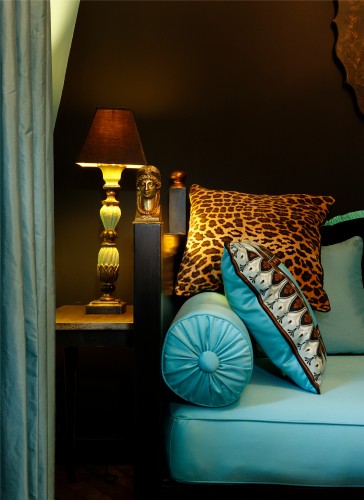 Is… dazzling…
The mythical Grand Library and bar… is splendid… avec "un club anglais" atmosphere… overlooking the "amusant" Mongolfier shaped gazebos… in the lovely garden…
A delight to behold…
Bambi Sloan… has truly succeeded in incorporating an elegant and whimsical touch… giving the Saint James… a uniquely charming yet luxurious venue… while keeping "fidèle" to the splendour… of its original structure…
The Saint James Paris… has all the services of a château-hotel… the privileges of a private club… as well as a… preeminent family home…
Simply… charming…
The renowned Chef… Cyrille Robert… heads the gourmet restaurant…
The "Gemology Spa"… is a… "luxury shrine"…
The prestigious Saint James… nestling in a park in the heart of Paris… is a unique hotel… a striking original…
Dazzling gem…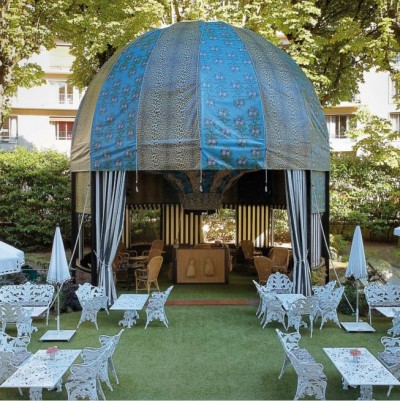 We shall encourage… our handsome American… from Dallas… to visit this… remarkable establishment again… when next in Paris…
Saint James…
A hotel… like no other… in Paris…
Thrilled… us…
"Nous reviendrons"…
We will… return…
We can't…
Wait…
a.