Le Cour du Commerce Saint-André… "Ambiance Historique"…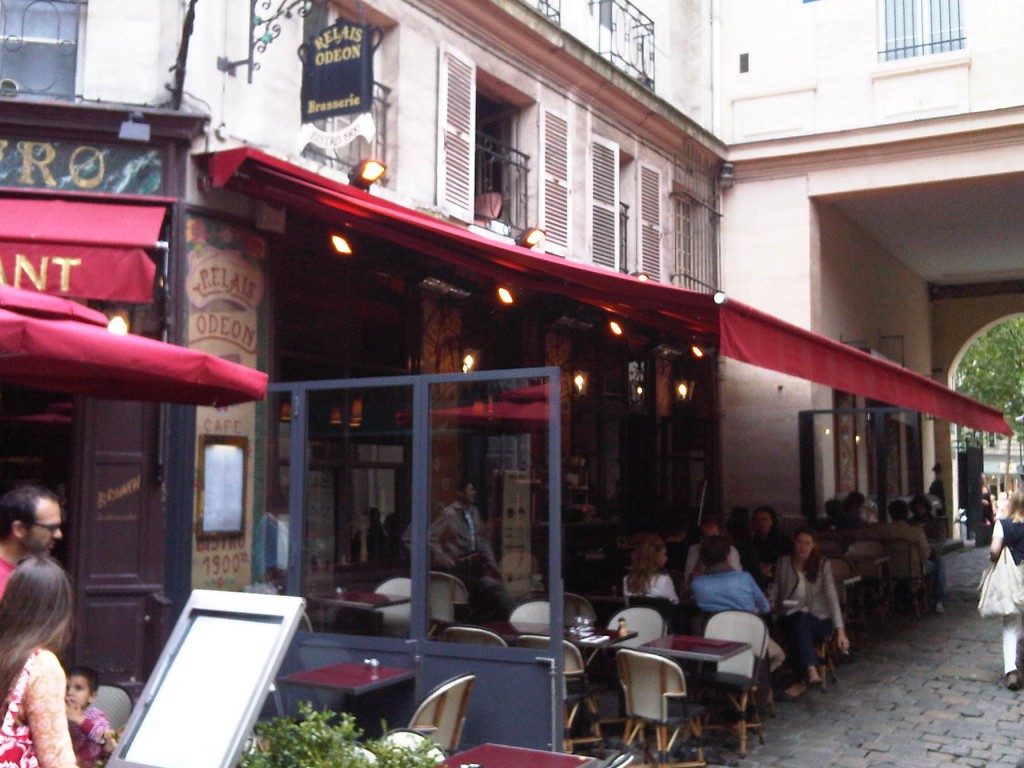 "Le Cour du Commerce Saint-André"…
Is one of the oldest passageways… in Paris…
After a moment's… hesitation…
We entered into the… "passage"…
Suddenly we were transported… into the magical world of "le vieux Paris".
Hearts beating intensely with excitement at our discovery… we realised we were in the mysterious world of the past…
More than a sprinkling of early morning… "coffee addicts"… were already sipping their expresso's while devouring their cigarettes… as if their life depended on it…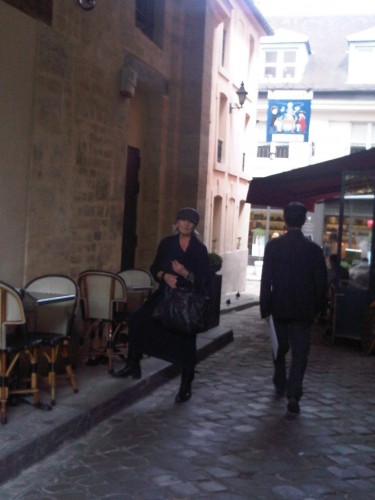 Alert… wide awake… and ridiculously excited by the scene in front of us…
We sat down…
In one of the many evocative cafés lining the narrow "trettoir"…
"Le Cour du Commerce Saint-André"… in the 6th arrondissement is rich in Parisian history…
Although in the heart of the… "Quartier Latin"… this fascinating cobbled "passage"… created in 1735… which links the rue Saint-André des Arts with the rue de l'Ancienne-Comédie…
Is frighteningly easy… to miss…
In 1776 the passage's length was doubled… reaching across to the rue de l'École-de-Médecine…
Georges-Jacques Danton… a leading figure in the French Revolution lived in the Cour… his house was replaced by the Haussmannian development… the fabulous Boulevard Saint-Germain.
In the early 13th century… King Philippe-Auguste… built a thirty-foot high defensive wall around the city… the Cour du Commerce Saint-André is actually built on the site of the moat that surrounded that wall.  It included thirty four defensive towers… one of which survives in the Cour du Commerce…
In fact in the "Un Dimanche à Paris"… an elegant "Salon de Thé"… exists the remains of one of those towers which were built in 1200-1215.
The rear of the oldest restaurant in Paris "Le Procope"… built in 1686… is in the Cour du Commerce… the front of this café is on rue de l'Ancienne-Comédie…
Having our "déjeuner" in this historic café was… emotive and a delight.
Browsing through the lovely galleries… art shops… jewellers… chocolatiers… pâtisseries… restaurants… bistros… in the "Cour"… we came to the awesome arched gateway leading into the Odéon area… where we caught our bus 63… heading home…
The Cour du Commerce Saint-André…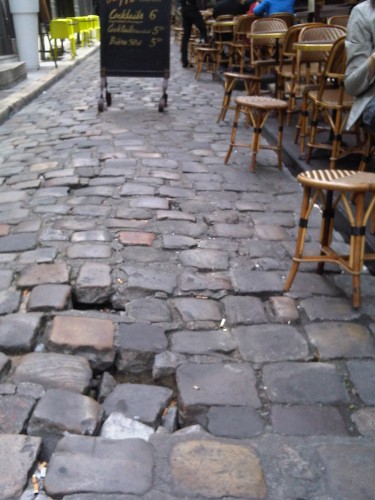 This roughly cobbled… passageway…
With its utterly enchanting…
Historic… ambience…
The ancient…
Living side by side… with the modern…
Left us… with a vivid feeling of Paris…
In the past…
it left an indelible… impression…
Unforgettable…
"Je reviendrai"…
a.