The Opening… of the 26th Biennale des Antiquaires…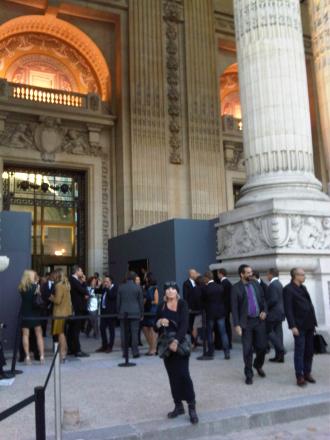 Le Grand Palais…
Hosted… the opening of the…
26th Biennale des Antiquaires…
Which was… spectacular…
"Le Tout Paris"…
Attended…
French… glamour…
At its… best…
With the exquisite… talent and brilliance of…
"L'empereur des styles"…
Karl Lagerfeld…
Designing… creating…
"Le décor… pour le"…
"XXVIe Biennale des Antiquaires"…
"For this project, I was inspired by Paris, by the Grand Palais and by the universal exhibitions in the early 20th century but also by the covered shopping arcades built in the 19th century in Paris. For me, the Grand Palais is the very heart of Paris, the idea of Paris and its universal side. It's also a place I adore and where I have organized incredible fashion shows in the past.

I wanted to underline the immensity and the splendour of the glass roof, which will be like a sky protecting the exceptional objects to be presented by antique dealers, galleries and jewellers."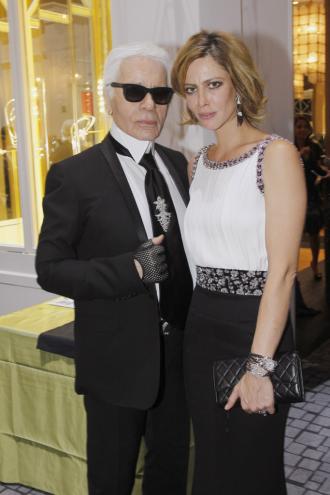 Christian Deydier… President of the Syndicat National des Antiquaires (National Union of Antique Dealers) describes his choice of Lagerfeld…
"The creative genius of Karl Lagerfeld, his sensitivity and his sense of set design are just some of the reasons why I am delighted about this collaboration for the 2012 Biennale. Mister Lagerfeld was immediately able to adapt his vision as a Man of Art to the specific needs of the Biennale, thanks to his immense talent."
André Malraux… one of my favourite French authors… diplomat… (see my article on him entitled: "André Malraux… My… Inspiration…" was conducive in welcoming the Biennale des Antiquaires… a focal gathering of the greatest French and international antique dealers, galleries, decorators, jewellers, and antiquarian booksellers under the glass-domed Grand Palais… the magnificent Paris landmark.
The 2012 Biennale is welcoming 121 exhibitors (there were 86 in 2010)… including ten "maisons de haute joaillerie"… 54 newcomers… and only 29 foreign dealers.
In addition to the main dome of the Grand Palais… "La Nef"… the event will also take place in "Le Salon d'Honneur"… which is opening its doors for the first time since 1937… after several years of restoration work.
Karl Lagerfeld's vision of this year's Biennale… includes elegant wood-framed storefront façades… designed by renowned decorators such as François-Joseph Graf, Jacques Grange, Peter Marino, and Bouchara… especially to entice collectors into the beautiful stands exhibiting finest quality 17th to 20th century antique furniture…
Old Master paintings and drawings… sculpture, porcelain, Roman, ancient Greek, Islamic, Asian, and tribal arts antiques, rare book and coins, Modernist art, and of course… the magnificent jewels of Cartier, Van Cleef & Arpels, Boucheron, Chaumet, Piaget, Harry Winston, Bulgari, and relative newcomers to the world of "haute joaillerie"… such as Chanel with its "1932" jewellery collection… originally designed by Gabrielle Chanel… Dior… and Wallace Chan… the first Asian jeweller to be invited to exhibit at the Biennale.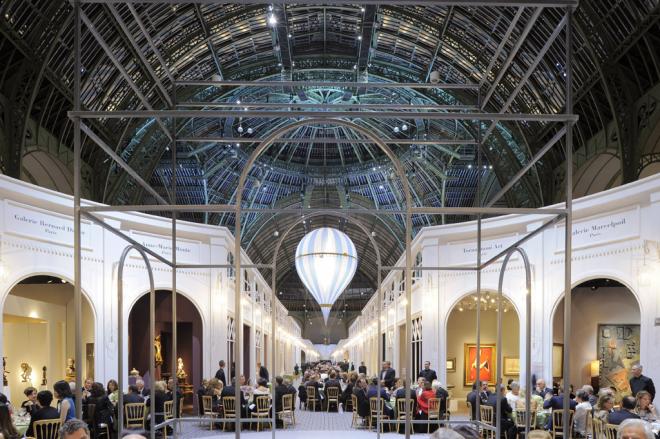 The impressive amount of top galleries respresented… such as Didier Aaron & Cie, François Léage, Oscar Graf, Maison Kraemer, Aveline, and Benjamin Steinitz… amongst others… still attract the passion of enthusiasts and the greatest French and international dealers and collectors…
As well as the international Jet Set… who cannot resist this Antiques fair…
The opening… of…
"Le XXVIe Biennale des Antiquaires"…
Designed… by the genius that is…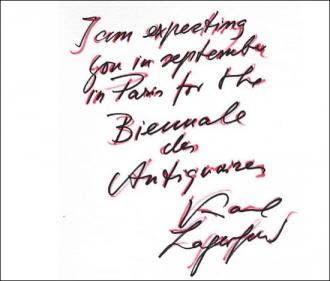 Karl Lagerfeld…
Was… a Triumph…
A huge… success…
A treasure… of…
Magnificence…
And…
Beauty…
a.