"Women's Forum Brazil 2013" – A Case of Empowerment…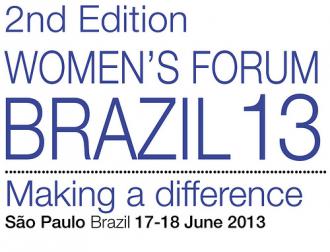 I recently asked a wise, enlightened acquaintance a topical question: "How, in your opinion, is women's role changing in the '5th Dimension', from a spiritual point of view?"  The answer came quickly and clearly: "Because of women's increased empowerment, they now have a stronger platform to show that their way can work in a more beneficial way…".
Since the discussion moved on, I was left to wonder about this simple yet startling reply later, in the privacy of my thoughts.  "Their way"… I presume meant women's naturally more diplomatic, nurturing, consensus-driven method of operating, versus the more power-driven, competitive, authoritative, sometimes confrontational approach of men.  Given the current unstable, chaotic, and down-right dangerous state of the world, I mused, we need every bit of help, every useful suggestion, to move us through this turbulent period in human history, and on to a more peaceful, balanced, harmonious place in our collective state of existence.
Which brings me to why I found myself going up the lift of the Publicis building one bright sunny morning, and as the doors slid open, coming face to face with the elegant head of the Publicis Group, Maurice Lévy, before continuing up to the rooftop conference room, with its impressive garden terrace and a spectacular view of Paris to attend an "avant-première" presentation of the Second Edition of the "Women's Forum Brazil 2013", taking place this year on the 17th and 18th of June 2013 at the Grand Hyatt Hotel in São Paolo.
The theme of this year's Brazil conference will be "Making a Difference", explained Véronique Morali, President of the "Women's Forum for the Economy and Society", and President of Fimalac Development.  "The Women's Forum has developed a strong belief in Brazil's dynamic of change. We seek to be present at the heart of economic and social growth, wherever the active participation of women creates a movement of optimism and drive."
What a befitting purpose, given my acquaintance's statement about women now having a stronger platform to demonstrate that their methods can work in a more beneficial way…  What better than to have more of these platforms, such as the Women's Forum, being present at "the heart" of economic and social growth, promoting active participation of women in movements of positive change in society, the economy, even governance – which is currently the case in Brazil, now the world's 6th largest economy.
Aptly, the "2nd Edition Women's Forum Brazil '13" will discuss today's historic opportunity for Brazilian women to create real impact on their country's future – to "Make a Difference".  More than 500 participants are expected to attend the two-day forum, exploring topics ranging from good governance and social investment to women's rights, environmental innovation and entrepreneurship, also exploring questions on how Brazil can best benefit from the international exposure gained from its hosting of the 2014 World Cup and 2016 Rio Olympic Games.
Among the 60 exceptional speakers to discuss these ground-breaking issues will be Izabella Teixeira, Brazil's Minister of Environment, Carlos Ghosn, CEO of the Renault-Nissan Alliance, Anne Lauvergeon, former CEO of Areva and President of the "Innovation 2013 Commission", Jacqueline Pitanguy, Founder and Director of CEPIA, a leading Brazilian organization for women's rights; also, energetic young entrepreneurs like Leila Velez, Founder of Beleza Natural, and passionate activists such a Peruvian Albina Ruiz, Founder and President of Ciudad Saludable, an innovative waste recycling organization.
"The Women's Forum Brazil 2013" will also feature important Women's Forum initiatives for corporate advancement of women and projects by young people such as "CEO Champions" and "Rising Talents".  It will also be the occasion for the release of two major studies focusing on gender and leadership in Brazil and Latin America.
Listening to Véronique Morali, President of the Women's Forum for the Economy and Society continue to describe the Brazil Forum's "Program", with its highly impressive list of plenary sessions and workshops, I glanced away for a moment to enjoy the exceptional skyline view of Paris in the background…  Mrs. Morali,continuing her presentation, described the Women's Forum's future growth strategy: its ambitious internationalisation plans.  From traditionally holding their annual influential "Global Meeting" in Deauville, France, they are this year hosting two other major international forums, the "Brazil Forum 2013" and "The 2013 Women's Forum Myanmar", taking place in Yangon, Myanmar on the 6th and 7th of December 2013, entitled "Women in a Fast-Moving Society", with the much-anticipated participation of Daw Aung San Suu Kyi.  The future of the Women's Forum is definitely "à l'internationale", confirmed Mrs. Morali, announcing a third international forum planned for 2014, possibly in Indonesia (making a total of four annual Women's Forums in 2014, with an ambitious eight forums hoped for annually in the coming years).  Describing their strategy as regards their choice of international forum destination, Véronique Morali stated: "on veut aller vers l'optimisme…", adding that the Women's Forum's objective is to "ouvrir l'ésprit…" in whichever country they choose to host an international forum.
Platforms, such as the "Women's Forum", are an essential tool to nurture women's empowerment, wherever the winds of social and economic change are blowing, but let us not forget our own individual responsibility as women to encourage harmony, cooperation, and dialogue wherever we might tread in our daily lives, setting an example of "how women can best help build peace", in a world currently filled with far too much unrest.
L.M.