Les Soeurs de Napoleon… at the Musée Marmottan Monet…
The… exhibition…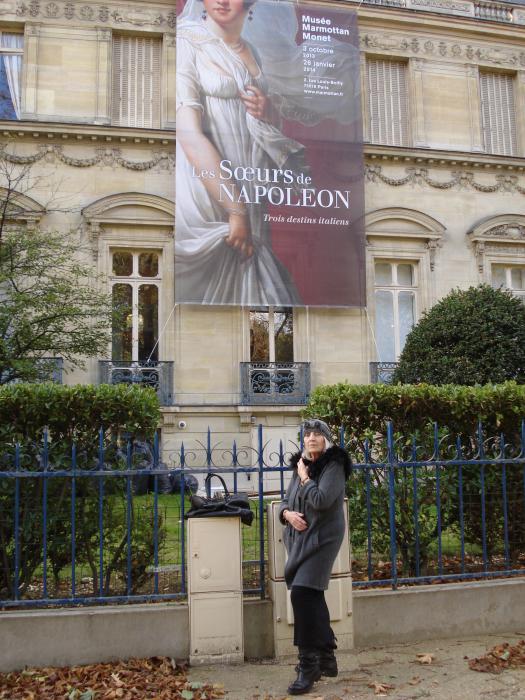 "Les Soeurs de NAPOLEON"…
"Trois destins italiens"…
At… the…
Musée Marmottan Monet…
Was a… vision of beauty…
Elegance… charm…
Power…
Upon entering the Musée…. we were astonished by the splendour of the museum (originally a hunting lodge for the Duc de Valmy… later purchased by Jules Marmottan)… which was the perfect background for this exceptional exhibition… on one of the most illustrious families of France…
La famille… Bonaparte…
Concentrating on Napoleon's extraordinary mother Maria Letizia… (of whom he paid homage by saying… "It is to my mother that I owe my good fortune and all I have accomplished")… and brothers in general… but on his three illustrious sisters in particular… Elisa… Pauline… and Caroline…
Great paintings… sculptures…
Palaces… accessories…
Jewels…
One hundred and forty "oeuvres" were exhibited… creating for the viewer a universe of privaledge and prestige on the private and public lives of the…
Three… sisters…
Three… destinies…
An amazing… experience…
A fascinating… one…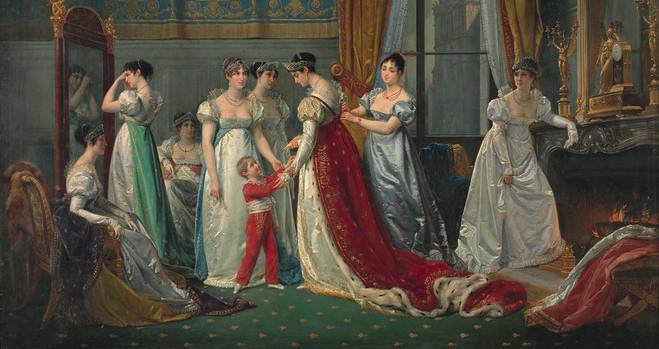 Of… the three…
Pauline…
Imperial French Princess… Duchess of Guastalla… and as the wife of Prince Camillo Borghese… Princess consort of Sulmona and Rossano…
Was… the most… oustanding…
Not only for her legendary beauty… described as being the most "ravissante" of all… (whom the grand Italian sculptor of the times Antonio Canova created the life-size neo-Classical portrait sculpture "Pauline Bonaparte as Venus Victrix"… which is on display at the Galleria Borghese in Rome… in an eternal memories of Pauline's great beauty…
But above all… for her indomitable courage… which she demostrated by addressing a crowd… "You are all afraid of dying, but I am Bonaparte's sister, and I am not afraid of anything"… as well as her admirable quality of loyalty… for even when Napoleon her beloved brother's fortunes changed to the worse… and all turned their backs on him including his brothers, sisters and second wife Marie Louise… Pauline remained utterly committed and loyal to him… Admirable…
Even when she was in ill health herself… she fearlessly went to stay with him on St. Helena where he had been deported… banished…
In 1814 she addressed her brother-in-law who offered to take her with him when he fled… by writing… "I did not love the Emperor as a sovereign, I loved him as my brother, and I shall remain faithful to him until death"…
She was… Napoleon's favourite…
Elisa…
Duchess of Lucca and Princess of Piombino… then Grand Duchess of Tuscany…
The eldest… was physically plain but intellectually astute… resembling her illustrious brother. She was wise, attentive and extremely capable… the only sister to possess political power.
Caroline…
Princesse française… and as the wife of General Joachim Murat… Grand Duchess Consort of Berg and Cleves… Queen Consort of Naples and Sicily… Comtesse de Lipona"…
The youngest of the Bonaparte sisters… was much prettier than Elisa… but not as beautiful nor bewitching as Pauline…
However… she was intelligent, skillful and capable of "shrewd and selfish reckoning"… according to Napoleon… "her ambition was inordinate"…
Those qualities… were ultimately detrimental to the Emperor and the Empire…
Elisa… Pauline…
Caroline…
"Les Soeurs de Napoleon"…
"Reines des Arts et de l'Italie"…
These…
Extraordinary… sisters…
Of… an…
Extraordinary… man…
Napoleon…
Bonaparte…
They… made
Him…
Proud…
a.