Chantecler Tango… at Théâtre du Châtelet…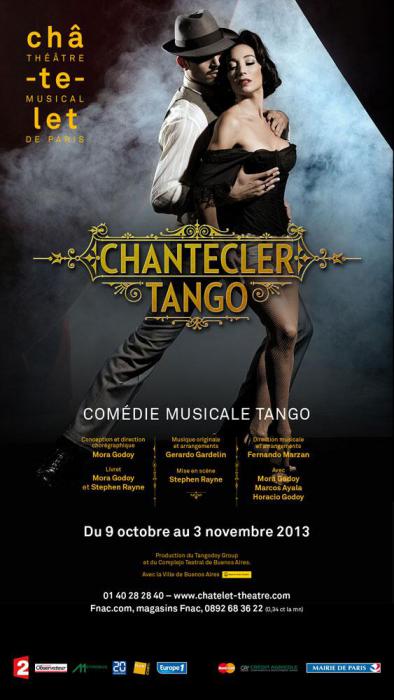 As… the curtain…
Of… the splendid…
Châtelet…
Théâtre Musical de Paris…
Slowly… lifted…
We… the enthralled…
Parisian… audience…
Were transported… to the mythical cabaret…
Chantecler…
In… Buenos Aires…
Mora… Godoy…
The sultry… Argentinian…
Dancer… choreographer…

Whose previous "oeuvre" Tanguera… ran twice at the Théâtre du Châtelet ten years ago to tremendous success… has devised a new ambitious musical… in homage to one of the legendary Buenos Aires cabarets of the 1930's and 1940's…

The original Chantecler cabaret… was the creation of a Frenchman Amadeo Garesio… whose wife hailed from Marseille… Madame La Ritana. The character of this mythical "femme fatale"… principal dancer… and undoubted star of the cabaret… who elicited desire and jealousy from her lovers and admirers… is portrayed in the presentation by the creator of this Argentinian musical.

However… the French influence on the most important cabaret of Buenos Aires of the time… known by regulars as '"Le Vieux Paris"… was visible not only in its architecture and decoration… but also in its fine gastronomy and menu, which was written solely in French…

"Eh voilà"…

Chantecler… Tango…

This incandescent performance piece… revisits the cabaret's glorious past and is a tribute to the legendary tango dancers, such as the great Carlos Gardel… musicians, such as Oscar Alemán… poets, conductors… who animated those magical nights long ago when love… passion… betrayal… suspense… and intrigue… were the principal actors of those fantastical evenings…
Played out… within a background of violence… crime… and a dark underworld…

Founded in 1924… Chantecler became a temple of tango… and welcomed a diverse range of customers: magnates of industry, military officers, and the police… all rubbed shoulders with members of the nobility and the underworld… in its immense sensuous Art Deco salons.
Sadly Chantecler… closed its doors forever in 1957…

Also appearing with La Ritana in the muscial are two other famous real-life characters… Angel Sanchez Carreno… the cabaret master of ceremonies… who was called by the lady of the house "El Principe Cubano" (The Cuban Prince)… as well as the orchestra conductor Juan D'Arienzo… nicknamed "El Rey del Compas" (The King of Rhythm)…

We were treated to alternating scenes between the past and present… on the one hand the historical tango… on the other… the contemporary tango… while the original score by Gerardo Gardelin offered a wide variation of choreographic styles.

Mora… Godoy…
Heading a cast of thirty dancers… singers… and musicians…
Succeeded brilliantly… in reviving…
The spirit… and special moments of this famous…
Legendary… cabaret…
While bringing "tango transformation"… up to date…
It is as alive… as ever…
Chantecler… Tango…
Is… a…

Triumph…

a.