Jeanne Toussaint.. Cartier's "La Panthère"…
Jeanne.. Toussaint…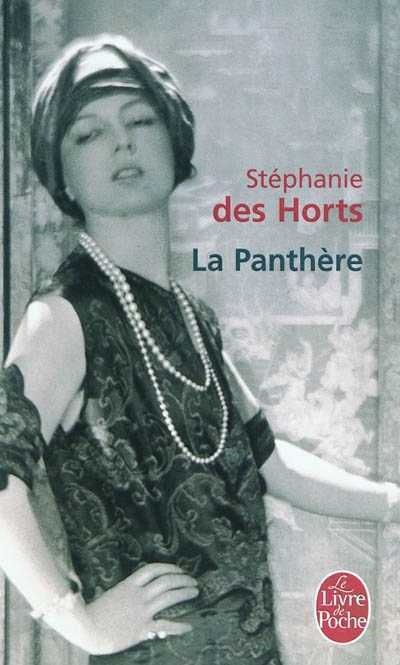 "Une femme brilliante"…
"La panthère… de Cartier"…
Indomitable… woman…
Director of the world renowned French jeweller and watchmaker Cartier's "Haute Joaillerie" department from 1933 until 1968… Toussaint was fabled for her exquisite imagination and prowess in being the creator of the elusive and magnificent "panther"… that "beauty of beauties" of the feline animal kingdom.. "la panthère"…
Jeanne.. Toussaint…
Who created the enduring and everlasting "symbole" of the… fabulous jeweller Cartier… under her impressive style and directorship… she brilliantly manoeuvred Cartier's "Art Deco" structured lines into her own more whimsical creations of figurative jewellery… in the form of her favourite flowers, birds, flamingoes, dragons, and animals – of which the "panther"… was the most famous…
"La panthère"… which she adorned with a sapphire cabochon of 152.35 carats… a row of diamonds and sapphires… creating… a ferocious and sensuously stunning animal… into a magnificent brooch… worn by the very rich and famous… the likes of… Wallis Simpson… Barbara Hutton… Jeanne Charlotte… the Maharajah of Patna… to name but a few of the lucky famous personalities who wore her designs.
Jeanne Toussaint was born in 1887 in Charleroi, Belgium… a contemporary and great friend of Gabrielle "Coco" Chanel…
Having created a new life for herself in the French capital Paris, she embarked on several affairs with tycoons and men of power and prestige…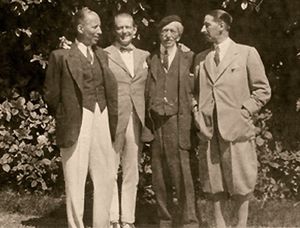 After the devastation of World War I, Toussaint fell in love with the forty three year old Louis Cartier… one of the three Cartier brothers of the Cartier jewellery empire.
In spite of their love for each other, they were not permitted to marry, due to family pressure put on Louis… but she continued working for him and remained his mistress till the end, when Louis Cartier died in 1942, while on a trip to the United States.
Toussaint, who travelled extensively with Louis Cartier… to India, Persia, the Far East, and Africa… where upon spotting a panther… breathlessly exclaimed these words… "Onyx, diamonds, emeralds – a brooch"… thus visualising the panther as the brooch that made her famous.
Inspired by her great travels to exotic places, which she explored and re-visited throughout her rich and enriching years of her tenure at the prestigious and beauteous Cartier… she implemented her inspirational travels (like her close friend and confidante Coco Chanel) into great style, just as unique and inventive as Chanel's.
She wore turbans with evening pyjamas… a Chinese suit with long pearls… which made her popular with "la haute société" as well as artistic circles of the time.

Her brilliance in using the finest quality… beautiful stones… and her cleverness in her choice of excellent superior craftsmanship… catapulted her into a world class league of legends…
"Comme son amie… Coco Chanel"…
Her reputation for style, glamour, and chicness… her imaginative love of combining different coloured stones and the juxtapositioning of precious with semi-precious stones, such as yellow sapphires and tourmalines, amethysts, and corals, lapis lazuli, and diamonds… made her the most flamboyant of Cartier's designers… ever.
However, it was "le symbole de Cartier"… the mysterious, seductive, and alluring jungle beast… the panther… that was synonymous with her and got her the apt nickname… "La panthère".
"En plus"… to prove her love of the big cats… she wore coats made of feline fur… and her apartment was filled with magnificent animal skins…
As if that was not enough achievement for an amazing lifetime, Toussaint was also known for her courage…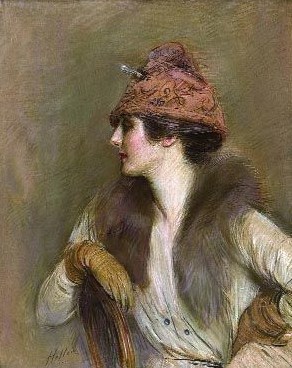 It was she… with the assistance of her colleague Pierre Lemarchand… who courageously created a bird imprisoned behind gold bars in a cage, using stones representing the patriotic colours of France – with white diamonds… blue lapis lazulu, and red coral, which was symbolic of the hated German occupation of Paris during Word War II, for which she was imprisoned and later granted her release only by the personal intervention of Gabrielle Chanel.
"Après la libération"… Toussaint and Lemarchand re-created the adorable little bird… but this time as the "Liberty Bird"… "L'Oiseau Libéré"… which boded well with Toussaint, who…
"felt that jewellery needed to be based on joy… what better subject than birds?"…
In tribute to Toussaint's influence on jewellery and modern design, the French government awarded… "la grande dame"… "le Grand-Croix de la Légion d'honneur"… the Grand Cross of the Legion of Honour in 1955.
Jeanne.. Toussaint…
A woman… ahead of her time…
Formidable… audaci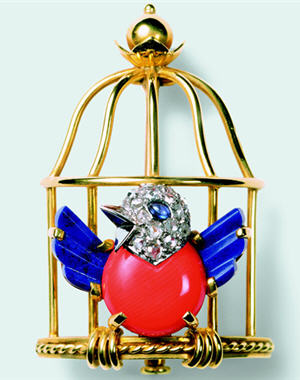 ous…
Seductive… creative…
Inflexible…
Magnificent…
The… unforgettable…
Cartier's…
Legendary…
"La panthère"…
a.