American Graduate School in Paris: Its 11th International Conference…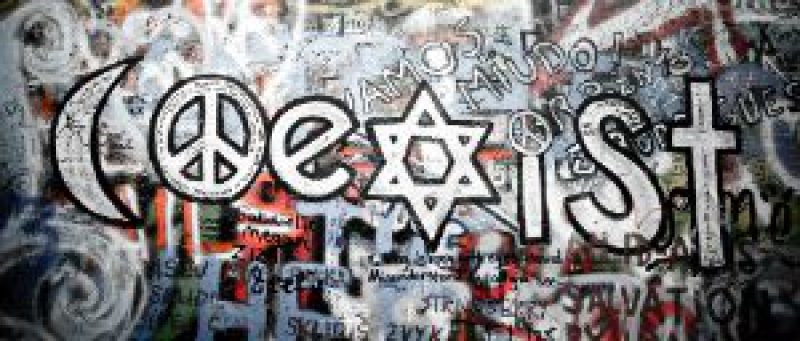 I was invited to attend the 11th International Graduate School Conference last week, taking place at the American Graduate School in Paris (AGS).. an "intime" French and American accredited graduate school specialising in International Relations and Diplomacy graduate degree programs in a prime Left Bank location.
This year's intensive Two-Day Conference was entitled: "The Complexity of Religion in International Relations: Theoretical, Legal, and Geopolitical Perspectives".  Since AGS prides itself in its world-class faculty drawn internationally and featuring scholars conducting original research at the forefront of their disciplines, as well as experienced professionals such as former Ambassadors, senior UN officers, OECD economists, international lawyers, and NGO managers, the conference was awash with academics from cities all over world, as far afield as Philadelphia, Florence, Istanbul, Budapest, Skopje, Madrid, and Giessen.. not to mention the eminent professors of the American Graduate School in Paris, discussing such serious and relevant topics as "Religious Influence on Inter- and Intrastate Relations" and "The Interaction Between Religion and Identity".
The Workshop on the second day of the conference, entitled "Unite4Heritage: Social Media Narrative", was led by Tim Francis (an alumnus of AGS) and Ala Elfellah, both of UNESCO in Paris, which was followed by a screening and discussion of Richard Dawkins' film "The God Delusion".  Fascinating stuff…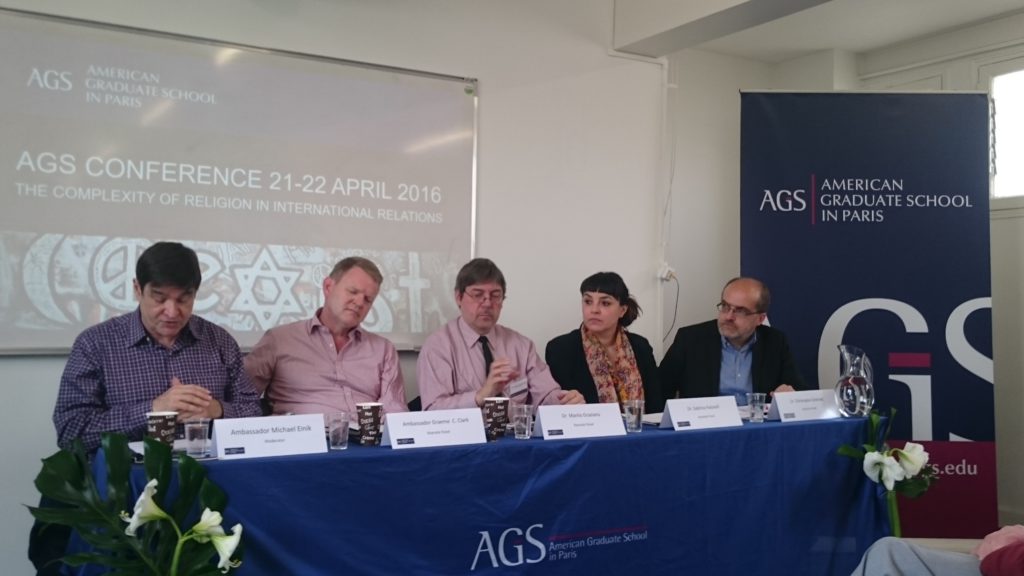 The Plenary Session at the end this ambitious and thought-provoking conference was moderated by Ambassador Michael Einik, a Senior Policy Level Diplomat, and professor at the American Graduate School in Paris, currently teaching its core courses in Diplomacy.
The Session's panel was made up of highly distinguished experts in their field, such as Ambassador Graeme C. Clark, Deputy Head of Mission at the Canadian embassy in France, who gave us a light-hearted but detailed insight into Canada's immigration model as relates to the topic of the conference.  Also, Dr. Christophe Grannec, a specialist of Religious Sciences and a statutory member of the GSRL-CNRS (the "Groupe Sociétés, Religions, Laïcités", GSRL, a research arm of the "Centre national de la recherche scientifique", CNRS – the largest governmental research organisation in France and the largest fundamental science agency in Europe), who discussed the need for inter-cultural and inter-religious dialogues post-globalisation.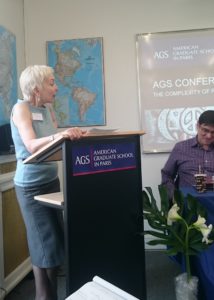 Another member of the panel was Dr. Manlio Graziano, an Italian scholar and author of many books specialising in Geopolitics and the geopolitics of religions, currently a professor at the American Graduate School in Paris and the Sorbonne.  And finally, Dr. Sabrina Pastorelli, a post-doctoral researcher, author, and member of the esteemed GSRL-CNRS research institute.
To see these distinguished panellists at the conference sharing their hard-earned knowledge, gained from long-standing experience and research in their respective specialised fields, was very heart-warming indeed, and provided AGS students with a unique opportunity to engage in a dialogue with the panellists, especially during the final Question and Answer session.
The conference ended with a speech given by the American Graduate School in Paris' President of International Relations and Diplomacy, Dr. Eileen Servidio-Delabre, who eloquently thanked the participants and (mainly student) organisers in making this 11th AGS International Graduate Student Conference a great success, and which contributed to shedding more light on this complex and ever evolving field of study: International Relations.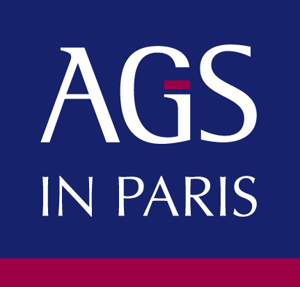 The pride evident in Dr. Servidio-Debabre's face as she addressed the conference was touching, and brought to light the life-long dedication and passion required in the field of Education: in this case, the desire to teach International Relations and Diplomacy to a new generation, in order to help attain a common objective vital to all: achieving world peace and harmonious co-existence.
L.