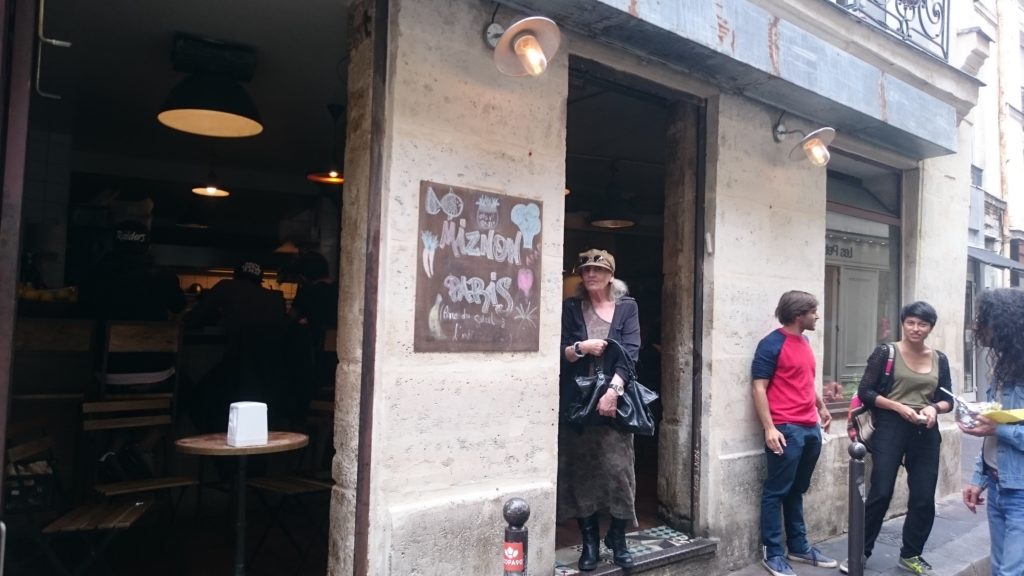 An… explosion…
Of… so called…
Clean… food…
Vegetarian…
Vegan…
Is literally mushrooming here in Paris…
Enfin…
A rather delayed reaction.. so to speak.. since "La cuisine biologique".. has been flourishing for decades in places like the U.S.. with the U.K. following in its footsteps.
Big time…
We're enjoying an idyllic "Indian summer" before the rains set in.. so we were delighted to be whisked off by some of our vegetarian addict friends to a recently discovered "hole in the wall" resto.. on one of the history-filled narrow streets… in the very charming Marais district.
This tiny place is managed by a young, dynamic, vivacious manager, who cajoled us to try his colourful vegetarian grub.
Ushering us to a rustic wooden communal table.. we were presented with the "plat du jour".. a concoction of melting grilled aubergine (which tasted like delicate marrow).. their speciality.. followed by a beautiful dish of whole roasted baby cauliflower.. baked in a "feu de bois" oven.. accompanied by a pungent yoghurt dip with flavourful spices.  A basket of soft fleshed bread.. completed the feast.
Delicious…
Memorable…
A simple meal… almost home made…
In… the meantime…
The place… was jumping…
Music… was blaring…
People… chatting…
It's… gutsy…
It's… generous…
Healthy… fun…
We… loved…
It…
a.