Women's Spirit Festival's Charlotte Saint Jean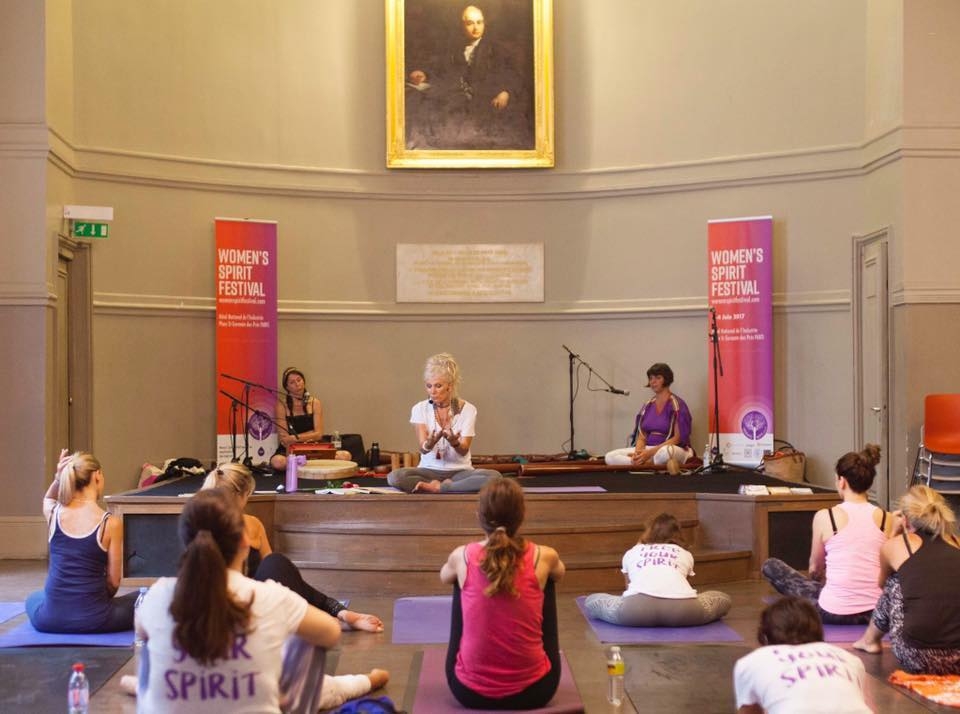 In an attempt to make "volunteering" to help worthy causes a more integral part of my life, whenever my "chargé" timetable allows (further to an experience in this regard earlier this year ), I found myself, yet again, offering my services after seeing an appeal for volunteers by the co-organiser of the festival on their Facebook page.
The 1st ever Women's Spirit Festival, an event created by Charlotte Saint Jean and Elodie Garamond, the founder of Le Tigre Yoga Club in Paris, took place at the Hôtel National de l'Industrie in Place Saint-Germain-des-Prés in early June 2017.
The Festival offered a weekend of Yoga, Meditation, and Wellness conferences, but also "a safe and sacred space for women to be the woman they want to be, to open new doors, to listen to the voice within, to feel supported and to thrive, with shared moments, tears, laughter and joy".
Names such as "Recognising the power of Shakti", "The power of the peaceful warrior with live music", "Celebrating the sacred feminine Shakti awakening", "Qi Gong for women's health and balance", "Yoga thérapie hormonale", were just some of the "ateliers" on offer which riveted me and induced me to want to participate in such an unashamed celebration of women's wellbeing and personal power.
On my afternoon of volunteering at the impressive Hôtel National de l'Industrie, the first person I encountered was the Yoga and Wellbeing pioneer and co-organiser of this audacious event Elodie Garamond.. when I asked for instructions on how I can be of assistance, Elodie asked me to seek out her conference co-organiser Charlotte Saint Jean at the "atelier" she was giving, which was about to start.  I made my way to the "salle" in question – which was filling up nicely with women of all ages and fitness levels – quickly introduced myself to Charlotte, and was then ushered in to attend the conference.
Before me, sitting in the centre of the room, was a striking blonde woman with wavy long hair pulled up in a ponytail, bright piercing blue eyes, wearing a pink top and floral leggings, and plenty of necklaces and bracelets adorning her outfit.  The minute Charlotte Saint Jean started talking, her energy and enthusiasm were infectious.  I learned that the conference I was attending was entitled "My Body, My Battlefield – Vanquishing Demons and Liberating the Goddess".  Charlotte used her own life story as a case study for the conference, and to say that I was interested was an understatement.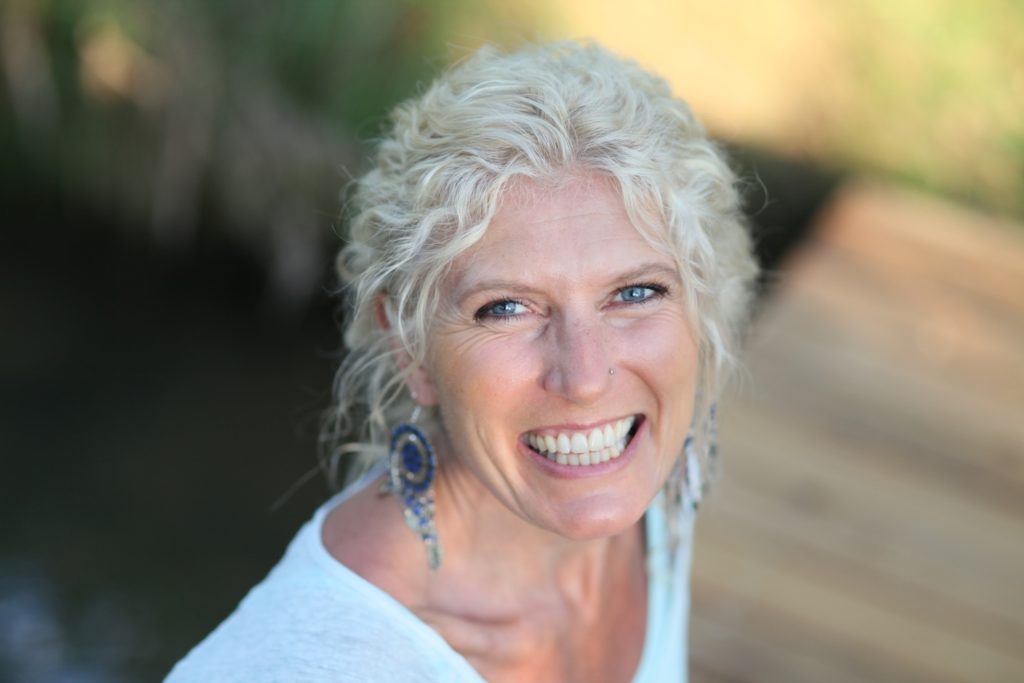 It seems that Yoga found Charlotte in London in the mid 1990's amidst a haze of career, ambition and living, working, and partying hard.  After years of body issues, dieting, body-loathing, addictions, over exercises, guilt-tripping, she slowly began "a little breathing and meditation here, a change in attitude there, sun salutations – the change had begun"..  Charlotte has now been teaching yoga since 2002 in France.  Living in Savoie with her two daughters and a partner, she totally embraces mountain life.
"With a healthy dose of fun, sport, and love for myself and those around me, I have finally beaten the body demons and found the body and energy of a woman with curves, edges and perfect imperfections.  And the Yoga?  It is so part of my daily routine it doesn't even need to make it on the "To Do List" – it just is!  Yoga has become my life, my passion, my daily routine."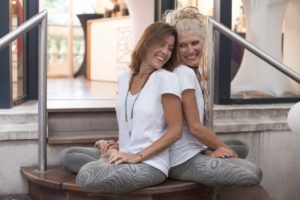 Charlotte Saint Jean teaches group and private classes, workshops and retreats, using her own unique mix of many teachers and schoolings (the principal ones being Sivananda Vedanta School with Shiva Rea – Prana Flow, David Swenson – Ashtanga, Hormone Yoga with Dinah Rodrigues).  Charlotte also organises the annual Yoga Festival in Val d'Isère and co-organises the Womens' Spirit Festival in Paris.  She is also the owner and Director of YogaChezMoi, the original online yoga site in France, and in October 2017 will be launching her own teacher training programme, ShivaShakti.
I left the conference inspired by Charlotte's story and her amazing road back to fitness, health, empowerment, and mostly living her dream of combining career with mental, spiritual, and physical fulfilment.. something I am constantly in search of.
I wanted to learn more, and was delighted when Charlotte Saint Jean accepted to answer some of my questions for a Lettre de Paris Interview:
Q. What made you come up with the idea of a Women's Spirit Festival?
For a number of years, I have been observing women as well as myself: how the phases of our lives affect us, how from adolescence to menopause and beyond we change physically, mentally, and some might say spiritually.  We spend a large part of our life being the people we are "expected" to be and juggling these expectations with our own inner desires, our inner voice.  As women, we seek a more circular and harmonious way of living and being.  We are not in a linear direction, but seek harmony and cooperation.  We share, we support and encourage.  We nurture, we create and we do.  So in fact, we thrive as we do so – in a community.  The Women's Spirit Festival was an idea I had: to celebrate all the different and amazing abilities of women, and this incredibly powerful collective energy or "Shakti", in a group environment and over a period of time.  To celebrate the power, the softness, the sensuality, the force, the grace, the creative, the dynamic, the lover to the businesswoman, the mother to the daughter.
Q. How did your collaboration with Elodie Garamond, the Founder of Le Tigre Yoga Club on this project come about?
I have known Elodie from some years and we are very like-minded in approach to life, to yoga and we share a very similar work ethic.  We also really like each other, which helps!  Elodie, like me, is an entrepreneurial yogini.  Like her, I have been pushing – and at the forefront – of some of the modern yoga trends in France/Europe with my online yoga site, www.yogachezmoi.com, with the Yoga Festival Val d'Isère (now in it's sixth year), in the way I teach in group classes, workshops and retreats and in various charitable ventures too.  I felt that the Women's Spirit Festival needed a collaborative force – who better to work with than a like-minded yogini friend.
Q. What did you learn, and what are your conclusions, after co-organising the 1st ever Women's Spirit Festival in Paris?
That women are talented, multi-layered, fabulously creative and supportive human beings and that they/we are crying out for opportunities to share this with others or to learn from others.  A safe environment, with a female collective, is exactly what we women are looking for.  As a source of inspiration, but also as a means of sharing and feeling supported – and that we are not alone in our thoughts, pain, life situations.  It is said that we are in an Aquarian Age –  a female age, and a very non-patriarchal time of our lives.  Women are currently carrying the society we live in – not because we have won a battle – but because it is OUR time and we women feel it, even if it scares us slightly.  The first WSF was like a landmark.  It will continue and it will flourish, and no doubt develop over time, but the collective energy that we all felt at the festival will spread.
Q. Is there room for more Wellbeing international conferences in Paris (editor's note: most sessions at the WSF were held in both French and English)?
I think so, although I think we also have to be sensitive to cultural differences.  The majority of the attendees at the festival were actually French speaking, and although I am English, and several of our teachers at the festival were from different nationalities (and yes various classes were taught in French and English), the majority of the attendees were French.  The "French touch" often mentioned in the press is a definite factor, and although the WSF is a celebration of all women – a collective gathering with no boundaries – there are still cultural aspects of our upbringing and the way we live (like it or not) that become a factor when we consider the festival's content and when considering other wellbeing conferences in Paris.
Q. How is being a Yoga "entrepreneur" different from working in your previous profession in the IT sector?
I would like to think that it is more ethical, fair, and considerate of the other people we are working with – and certainly this is true of working with Elodie.  I worked in a very masculine cut-throat environment before and the work ethics were not at all the same.  That, however, does not exclude the yoga world from "wars" or bickering and egos- sadly, as yoga is supposed to encourage union and diminish ego, not always the case but then we are all human and not perfect.  Being a yoga entrepreneur for a start, as it's origins in my passion and my life style, so my "working environment" is so much pleasanter than that of my previous job.  For me, it also carries the responsibility of trying to be fair and inclusive, often to my detriment.  It also leads me to do a lot of things for free: spending a lot of time working hard on projects that yes, benefit me personally and spiritually, but not always financially.  Ask a sales man to work for 12 months and not get paid.. I doubt they would say yes!
Q. How has your previous career experience helped you in your new professional life?
Massively.  Being a yoga teacher, nowadays, requires sales and marketing skills.  You also need a reasonable knowledge of IT to manage your web sites, social media posts, and mailings, and you need to be organised and know how to deal with your accounts and finances.  My yoga online site stems directly from my experience in IT Training Sales, as I worked at the beginning of the e-learning trend/market.  This has proved invaluable in developing, managing and marketing the site.  Being able to stand and present a class without being nervous and pass on a message.. OK a yoga class it is not a sales pitch, but the ability to express and communicate is vital when you are teaching any subject.  Anyway, every life experience, every step of your life leads you to the next one, and I think we often forget this and want to jump the steps.  Steps are an important part of each and every journey.
Q. Is being a Yoga instructor a passion, a profession, or a calling?
I would say all three.  You have to be passionate about it, and it is always a calling in one capacity or another.  It is also a profession – for me it is anyway – and I think if you want to deliver quality classes, you have to treat it as such, without losing the passion.
Q. What is your philosophy in life?
To live every day to the full.  To give the best of myself in every situation.  To always thank God at the end of every day, and ask him to guide me in the next.
Q. Happiness is?
Being true to yourself.. and never forgetting to laugh and dance your way through life.
© Lettre de Paris | lettredeparis.com