Strolling Down the Charming Rue de Montorgueil…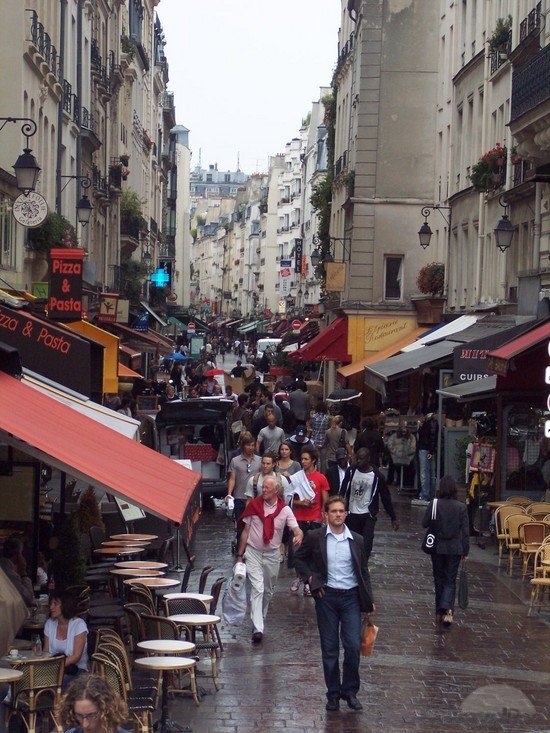 We had our our delightful "p'tit déj" (breakfast) at the "Pain Quotidien" on the "rue de Montorgueil"…  We loved the three varieties of "confiture", fresh crisp bread, and melting butter, with their excellent hot cups of coffee.  Highly recommended.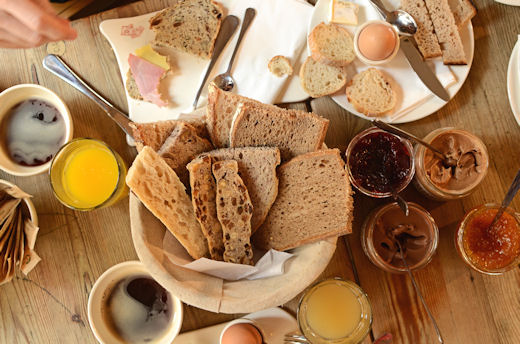 What can one say about this adorable street in the 2nd arrondissement, which was brilliantly depicted by the French impressionist artist Monet…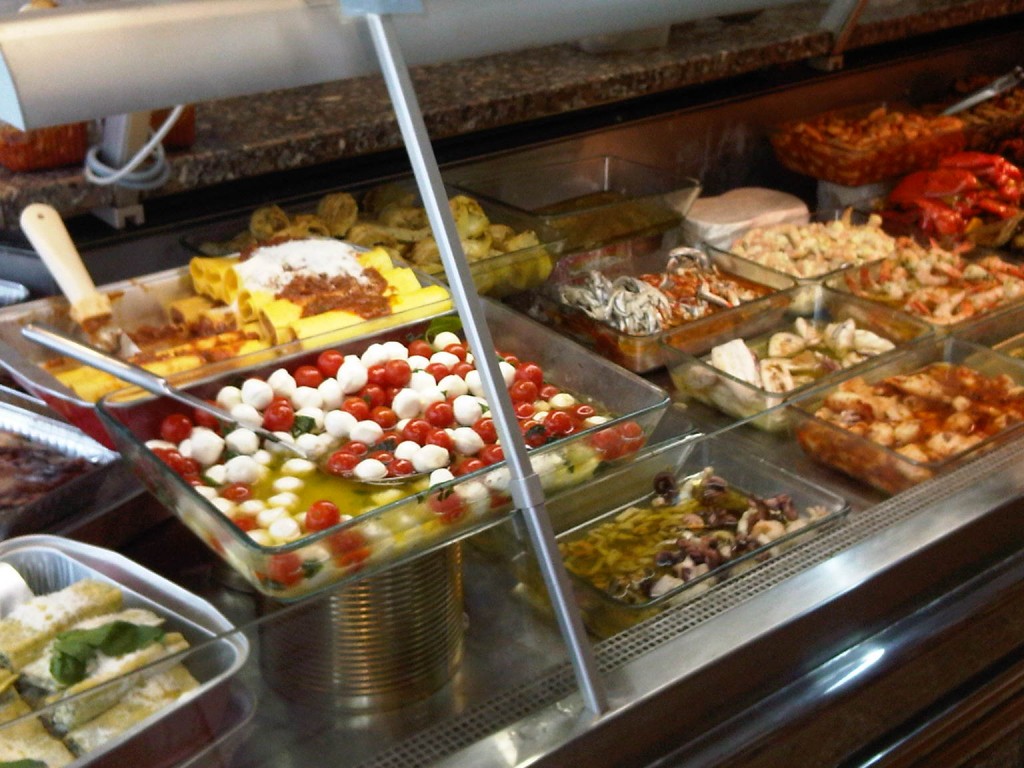 Rue de Montorgueil is flanked by lovely shops on both sides, starting with the well-stocked Eric Kayser boulangerie, which offers "à emporter".  Walking down the sunny side of the street, there is the delectable Italian traiteur, "Delitaly", with its colourful salami's, prosciutto's, baby tomatoes stuffed with "mozza", and giant mozarella's wrapped around a basilico and spinach mixture  – among many of the other usual Italian delicacies.  A most colourful place.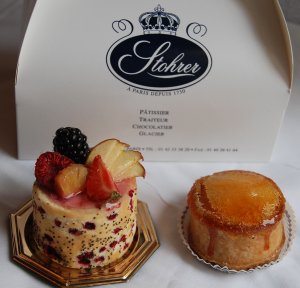 On the shady opposite side of the street, there is the lovely boulangerie,"Maison Collet" , with the usual fare of patisseries, baguettes, and "viennoiseries".
Gliding further down the road, one is overwhelmed by the irresistible aroma emanating from the "Doner Kebab" stand at the Kurdish-Turkish little takeaway shop.
Opposite it, there is the International Herald Tribune" marchand de journaux", where we bought magazines and newspapers to keep up with the latest news, gossip, and scandals of the day.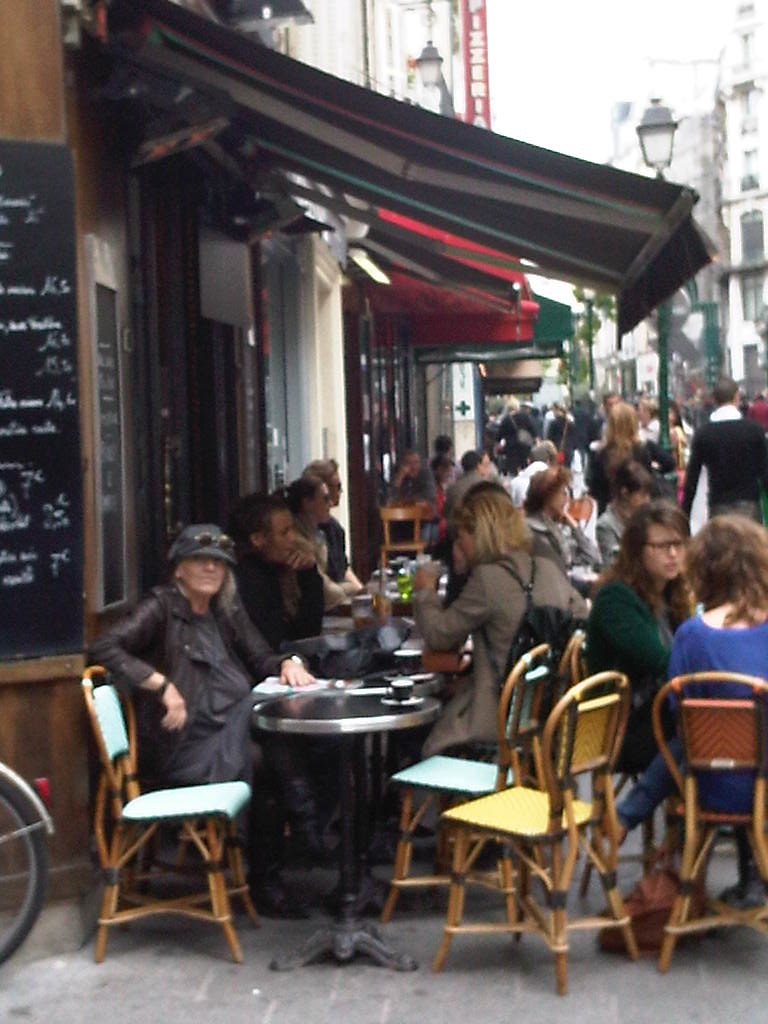 With a skip and a hop, we landed at the doorstep of the famous "La Maison Stohrer" patisserie , which is one of the oldest bakeries in Paris – it opened its doors in this very location "depuis 1730". Stohrer is renowned for its speciality, "Baba au Rhum", as well as their "Sacher Torte" chocolate cake – Yum.
Fruiterers are everywhere… offering their latest seasonal fruits and vegetables.  The strawberries were exceptionally enticing, especially the elongated "gariguettes" variety, with the French breakfast favourite, the "Melon", making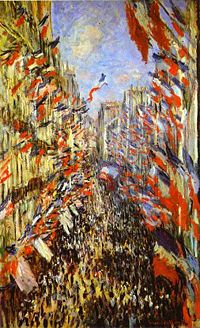 its early abundant appearance.
With our renowned delightful weakness for flowers, we scooped up several bunches of all varieties and colours from one of the lovely "fleuriste" shops, which we will put into our Roman, large pottery urn.  A delightful explosion of colour.
Strolling further down, we came across the Greek shop displaying its various varieties of their black and green olives, their home-made Dolma, Tzatziki, Tiropita, and their Baklava dessert – they were all very good indeed.  We also liked the Chinese "traiteur" and the Indian restaurant, with its takeaway service.
Not forgetting the mouth-watering "fromageries" – again displaying their amazing varieties of our favourite fresh chèvre cheeses, in their conical, pyramid, and rounded shapes… as well as the other cheeses, beautifully decorated with raisins, herbs, and walnuts.  "Merveilleux…"
Reaching the end of this bustling and endlessly charming pedestrian street, saddled with our wares, we knew why we are so enamoured with this…
Darling "rue de Montorgueil"…
a.