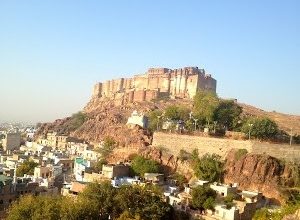 Rajasthan!  The very name conjures up images of princely states and fabled forts, of Maharajas and city palaces, of gemstones, silken fabrics, camels and elephants.  And, indeed, all of those were on full view in the cities we visited: Jaipur, Udaipur, Jodphur and, way out near the Pakistan border, Jaisalmer.
We began our journey though, in Punjab, driving from Delhi to Agra, which historically alternated with Delhi as the capital of the Mughal Empire.  Here, we joined the millions of other visitors who pour annually through a handsome red sandstone gateway, and come face to face with one of the world's great monuments, the Taj Mahal, standing since 1652 on the banks of the Yamuna River.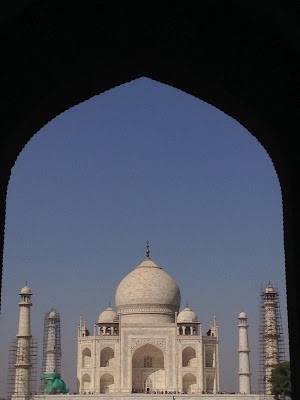 No matter the hype and the tens of thousands of photos we have seen, to stand in that archway and see it in real time, was truly mesmerizing.  An Indian poet described it as "a tear drop on the face of humanity".
The story is universal:  the grief-stricken emperor, Shah Jahan, could not bear to be parted from his favorite wife, whose name, Mumtaz Mahal, means "Jewel of the Palace".  On her deathbed, she is said to have asked him to show the world how much they loved one another.
Shah Jahan went to work, using beautiful Makrana marble, brought to the site from 300 km away by a troop of over 1000 elephants.  Unlike Carrera marble from Italy, Makrana is incredibly durable and becomes shinier and more translucent with time and usage.  As the earth revolves and the sun hits different sides, the color shifts and the building glows a soft yellow.  Some twenty thousand workers were involved in its construction.  Among them were sculptors from Bukhara, calligraphers from Syria and Persia, in-layers from southern India, stone cutters from Baluchistan, a specialist in building turrets, another who carved only marble flowers.
Exquisite inlays of semi precious stones form a floral decorative detail around the archways and along the walls: red carnelian, jasper, jade and crystal blue lapis lazuli, amethyst, agates and dark green malachite. When a flash-light is placed against the carnelian, it lights up like a red firefly.
In spite of the many other visitors, there is space to step to one side, drink in the beauty, marvel at the fusion of ancient Indian, Hindu, and Persian Muslim traditions of architecture, and the overwhelming love story it represents.  "I have not forgotten, I have not forgotten, O beloved."
Our entry proper into Rajasthan began with what should have been a four-hour drive from Agra to Jaipur.  Alas, we were not very far along on the main highway, when traffic came to a complete stop.  The Jat People from Northern India had mounted huge demonstrations in Delhi and Rajasthan against the lack of promised jobs from the central government.  The road to Jaipur was completely blocked!  Not to be deterred, our intrepid driver, Arun, checked in with some Jat sympathizers by the road, slipped them some rupees, and got directions to take the "rural" route to Jaipur.
We were soon lost in lush green farm fields, dotted here and there with haystacks that looked as though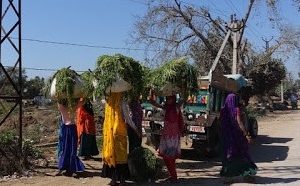 they had been lifted from a Monet painting.  We passed several women, dressed in brightly colored saris, walking along the side of the road carrying large bundles of grass on their heads.  Once they reached their destination these bundles are cut up to feed their cows and goats.  Every village had its share of the ubiquitous "Tuk Tuks", always filled with passengers.  Flocks of sheep and goats wandered through the villages, often outnumbering the human population.  But no matter how rural, every little town had an Airtel 3G or a Vodaphone outlet, proving that India is really and truly "connected"!
Even though we were on narrow rural roads, we ran into more, smaller, roadblocks.  Happily, these soon opened up, and on we went.  The narrow back roads were also filled with trucks of all sizes, all of them, like us, trying to find their way around the roadblocks.  Many of these were brightly colored and patterned, the pride and joy of their drivers.  Along with all the decorative touches on the back of every truck, we always saw two words standing out in large letters: "HORN PLEASE", a polite way of telling you that you must honk your horn constantly when passing!
After eight hours of, at times, bone-jarring, pot-holed dirt roads (driver Arun was truly heroic), we breathed a big sigh of relief when we drove through the gates of the Jai Mahal hotel in Jaipur, with its brightly colored, large sized chess set laid out invitingly in the entry court.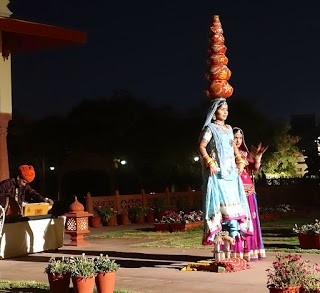 Later, we watched dancers perform the traditional Rajasthani Bhavi, the "Pot Dance".  Up to seven pots are balanced on each dancer's head as she dances nimbly, pirouetting and then swaying, with the soles of her feet perched on the top of stacked tumblers.  Quite the welcome to Rajasthan!
Our next day in Jaipur began with a quick visit to an ATM machine.  Sitting on the curb outside, two gentlemen were ready to entertain us with their flutes. I was so taken with the bright red turbans and the "charming" music they were making, that it was only after I had taken a snapshot that I realized what exactly they were "charming": a live cobra was obediently rising up out of the basket! I was ready for anything after that.
But perhaps not prepared for the size and splendor of the Amber Fort that lies just outside the city of Jaipur.  Parts of the old fort date back to a 10th century Hindu temple, before the Rajputs made it their capital 200 years later.  The present fort, begun in 1600 by Raja Man Singh, made Amber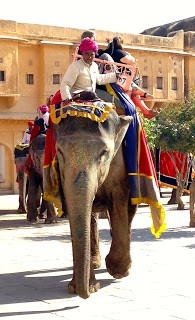 strategically crucial for Mughal Emperors as they moved south.  The canny Maharajas of Amber, however, always made certain to have close re lations with Mughal rulers, thus avoiding being overthrown.  Today, it is a serious tourist attraction, and we made an early start to enjoy it all.
It's quite a hike from the road up to the fort, made ever so much more pleasant from the back of an elephant… I think the last time I had a ride on an elephant was at the Whipsnade Zoo in England as a child!
Up top, the Diwan-i-Am, the Hall of Public Audience, is an open pavilion with lovely cream marble pillars and a canopy shaped ceiling.  The open sides allow breezes to blow through and cool the visitors down.  Up another level, the Jai Mandir, Hall of Private Audience, has stunning mosaics, and ceilings faced with mirrors that become magical at night, when the light of a candelabra waved around makes you feel you are standing right under a sky of twinkling stars.
Jaipur – the capital city of Rajasthan – was founded by Maharaja Jai Singh II, who moved his family and entourage from the Amber Fort and into Jaipur in 1727.  Covering one-seventh of the area of the whole city, it's an arresting complex of palaces, pavilions, gardens and temples, most of which are still a royal residence, inhabited by the current Maharaja, a direct descendent of Jai Singh II. The public rooms are beautifully maintained, with dazzling colors and materials that give a wonderful glimpse into the lives of the Maharajas.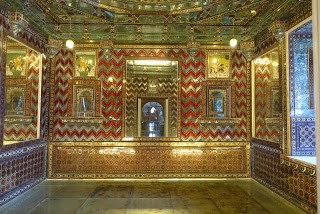 In the Chandra Mahal – the most imposing of the buildings – we found the "Sukh Nivas" or the "Hall of Rest", painted in Wedgwood blue, fully decorated with white lining.  And a sumptuous Royal Bedchamber, with mirrors and tiles and gold leaf and semi precious stones glinting and gleaming wherever you looked.  In an adjacent reception room, men are invited to remove their shoes and make themselves comfortable amidst the plush velvet cushions, from where the Maharaja would greet his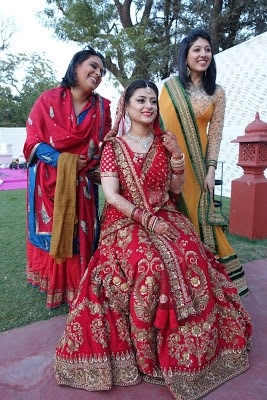 guests.
As if we had not seen enough color and exotic sights for one day, imagine our surprise when we returned to our hotel and found a classic Indian wedding about to begin.  400 guests, painted elephants, music, food, and – just outside our "garden room" – there was the bride with her attendants, waiting for the groom!  With her elaborately henna-ed hands, and stunning robe, she could have stepped right out of the Chandra Mahal of the City Palace.  Later, in the hotel gardens and under a glittering canopy, the bride and groom took their vows with traditions that must date all the way back to the days of Jai Singh II.
And we shopped!  Each city guide had his favorite store that he invited us to visit.  Once inside, he would discreetly withdraw and leave us in the safe "no pressure to buy" hands of the salesmen.  And what salesmen!  In Jaipur, it was fabrics, pashmina, cashmere, silks, cottons.  Bedspreads, table linens, scarves, fabrics by the meter.  We were putty in their hands!  In Agra, it was all about marble items, some as large as full length tables, others small bowls and saucers.  All of them inlaid with the semi precious gems we had seen at the Taj Mahal.  In one memorable sales room, Matthew snapped me from above as I did my best to say, "these are really beautiful, but no thank you!"  To no avail, we always seemed to walk out with a couple of bags on our arm.  We bought an empty suitcase before leaving Mumbai and somehow managed to completely fill it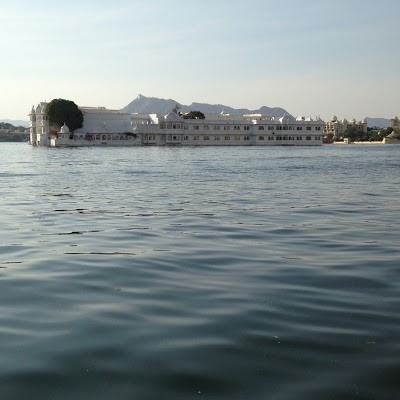 by the time we flew back to Paris.
Heading to southern Rajasthan, we spent the next two nights in Udaipur, with its beautiful lakes and floating palaces.  I found myself alternately looking for Lady Manners' houseboat ("The Jewel in the Crown") or for the "Best Exotic Marigold Hotel" residents (the movie was partly filmed in Udaipur).  We saw many photos of Maggie Smith and Judy Dench in the handicraft shops, but no sign of Lady Manners.  Then I remembered that her houseboat was in Kashmir, not Udaipur!
What we did find was a vibrant city, set around a series of man-made lakes.  The centre of town spills out from the City Palace, full of bustling, busy shops and temples and the usual cars and Tuk-Tuks.  Like most cities in Rajasthan, the very heart of Udaipur is fortified, with armed gateways, and giant doors studded with iron spikes as protection against enemy war elephants.
These days the doors stand open and we strolled through and down the busy street to the Jagdish Temple, built in the 17th century and dedicated to Lord Vishnu.  My knees got a real work out climbing up the steep steps, but the sight of the elephant statues at the top, with their trunks raised – a sign of "welcome" – kept me going.  No cameras were allowed inside.  Instead, we enjoyed listening to a group of devotees, seated on the floor, chanting and ringing bells.  And outside we goggled at all the intricate carvings, that wrapped around the entire temple, of elephants, horses and horsemen, followed by a row depicting daily lives of local people, topped with celestial musicians.
From a boat on Lake Pichola, the view back to the city is all about the giant, sprawling City Palace, a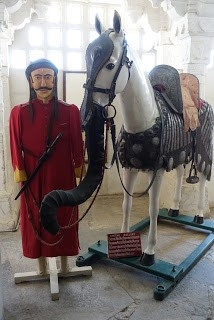 blend of Rajput and Mughal influences, and the largest palace complex in Rajasthan.  Like most of the other palaces, half of it is still occupied by the current royal family of Udaipur.  Inside, we climbed up to the very top, peering through the arches out over the city.  Each floor held some jewel of a room, some with mirrors and colored glass that dazzled the eyes.  And always one more gleaming royal bedchamber.
Another floor shared some of the stories of the violent history of Udaipur.  As one of the poorer princely states of Rajasthan, the Maharajas were almost constantly at war against the Mughals.  One heroic warrior, Maharana Pratap, foiled many Mughal attacks from the back of his horse Chetak.  An elephant trunk was fashioned to fit onto the horse's nose to prevent enemy elephants from attacking him – an elephant will never harm another elephant.  Chetak died in one such battle in 1576, and has been immortalized ever since in ballads and in the folklore of Udaipur.  There's even a statue of him at one of the main intersections in town.
We got a glimpse of how the ladies of the palace would spend their days, resting in a window seat, or gently swaying on a velvet swing.  In those earlier times, they were kept, literally, screened off from the world.  Lattice-covered windows would offer them a limited view of events going on in the lower courtyards, without anyone ever being able to see their faces.  The ladies had their moments of "escape" though.  They could be carried out of the City Palace in a covered sedan chair and taken to the Sahelion ki Bari, beautiful gardens laid out in the 18th century by Maharana Sangram Singh II for the sole use and entertainment of the royal ladies and their maids of honor!  With widespread lawns and gushing fountains, they could relax and while away the hours. No men were allowed to enter!  Today, it is a public garden and a lovely, peaceful oasis, away from the noise and crowds of the city.  Pretty much as it must have been for the royal ladies and their maiden attendants.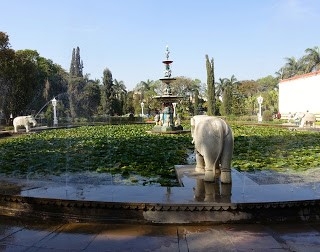 One of the sweetest moments of our entire trip happened in Udaipur.  Our guide for the day, Anoop, asked if we would come to his house and take a cup of chai with him.  He had never invited a client before, he said, but we were close to his neighborhood.  We told him we would be honored, and, indeed, it was an honor.  His eight year old daughter came out to greet us, his sister came from upstairs, and, after making the chai, his lovely wife very shyly joined us as well.  It was a perfect ending to our visit to this beautiful city.
The road from Udaipur to Jodphur crosses the Aravalli range of mountains, scrubby and dry at this time of the year.  No more Jat protests, so no more roadblocks and we made it to our hotel by lunchtime.  As with the other cities we visited, we arranged to have a guide meet us and show us around.  Our driver, Arun, stayed with us for the entire week, safely delivering us each day to a new, incredible destination.
And Jodphur was no exception.  Our jaws literally dropped when we saw the majestic citadel, the Meherangarh Fort, sprawling across the top of a steep escarpment.  Dating back to the 15th century, it has walls that are up to 36 meters high and 21 meters wide!  The view from the top reveals the dominant position of the fort and its series of intricate, strong fortifications.  It also shows a large number of houses painted blue.  Jodphur, in fact, is known as the "blue" city.  Stories vary as to whether the blue color refers to the original "Brahmin" residents, blue being the color of the high caste, or whether it is a more mundane response to a problem with termites.  By adding copper sulphate to white lime, a blue wash appears, apparently deterring the white ant termites.  Personally, I prefer the "Brahmin" story.
Inside the fort, there was no end of lavish chambers where the Maharaja and Maharani lived in splendid opulence.  One room had more mirrors embedded in the ceiling to transform it by candlelight into a starry heaven.  Other rooms were devoted to "howdahs" that would be strapped to the backs of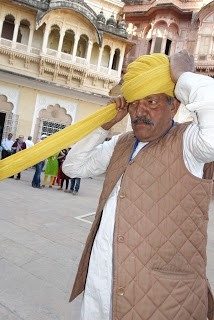 elephants, and on which the Maharaja would ride out to greet his subjects.  There were even baby cradles, one of them, from the 18th century with angel wings in gold leaf, seems to show an influence of the Christian faith side by side with the Hindu.
Down in the main courtyard, a local gentleman unravelled his turban to show its full 9 yards of fabric.  Once he was sure we were impressed by its length, he began to roll it back onto his head, giving the whole thing a little "twist" at each wrap around.  After which, he ceremoniously popped it onto the closest male head (Matthew's!) for the ultimate "tourist" snapshot!  Nearby an elderly sage sat in a small nook on a stack of pillows, kept his sword firmly across his knees, puffed on his "hookah", and nodded and smiled at the whole enterprise.
As early evening began to fall, our guide, Pummi, took us down into the town of Jodphur and to the "locals" market that wraps around the central Clock Tower, spilling out into endless alleys.  The most authentic market we had seen since we arrived in India.  It was Saturday and Jodphur's residents were hurrying through, buying food, or visiting with stall-holders.  The range of produce was amazing and looked so fresh!  Along with fruit and vegetable stalls, several street food chefs were hard at work, mixing up a batter made of chick pea flour and water, into which green pepper and vegetable pieces were dipped and deep fried.  Called "Pakora" or sometimes "Pakoda", they are a popular and delicious quick snack.  After a long day, we were ready for something, but maybe something a little more refreshing.  Ever the solicitous guide, Pummi took us to his favorite cafe in the market and ordered us each a  "Makhaniya Saffron Lassi".  A yoghurt-based drink, some are made with fresh fruits like mango or papaya, but we chose one that is simply yoghurt mixed with cardamom and saffron, topped with some whipped cream.  We were in heaven!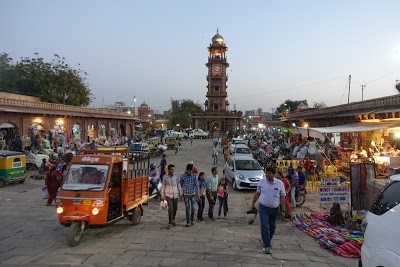 Our final day, and we were on the road again, out to the very edge of the Thar Desert in western Rajasthan, to the fabled city of Jailsalmer.  As well as cows and goats, we now began to see herds of camels along the road.  Like a dream!
Another imposing citadel fort stands on a triangular shaped hill, Trikuta Hill.  It lends its color to the city's colloquial name of the "Golden City" because of the color of the sandstone walls.  A 12th century city, Jaisalmer grew to be a major staging post on the Silk Road route that went across the forbidding Thar Desert from India to the West.  Taxes were levied on the caravans that travelled this ancient route, bringing huge wealth to the city.  Merchants prospered, built extravagant homes and temples.  But with the arrival of the East India Company and the new maritime way of travel and trade, Jaisalmer declined.
Today, it relies on the six month tourist window from October through March to maintain its tenuous hold as the last princely bastion of the region, and to preserve its rich heritage and culture.  The fort itself is also a city, with homes, shops, schools, hotels and temples all adding to its mystic charm.  In the main courtyard of the royal palace, the shuttered ladies' quarters are on one side, the Maharaja's open windows on the other.
Our guide in Jaisalmer, Manis (a Buddhist priest when not a tour guide) kept us moving  through the narrow streets, lined with more brightly colored fabric shops, toward the tower of the 15th century Rishabdevji Jain Temple.  Leaving our shoes outside, we entered the world of the Jains and their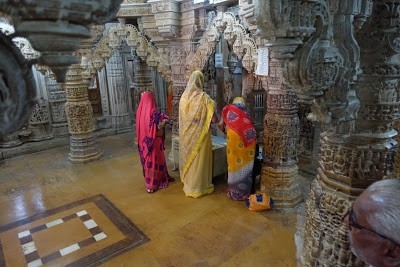 24 prophets.  The main prophet presided over the center of the temple (you could tell it was not a Buddha because the eyes were open).  The remaining prophets took their places in side niches and chapels.  Around the sides and the back of the temple, intricately carved pillars depict aspects of the Jain religion.  The soft light falling through the upper windows really showed up the detail and craftsmanship.  But the image I will take away from this "other worldly" place was the sight of three women, dressed in beautiful saris, making offerings and praying to their main prophet, as pilgrims have done for the past five centuries.
We made one last stop in Jaisalmer to visit one of the "havelis", sandstone homes built by the wealthy merchants during Jaisalmer's golden era.  One, the Patwon-ki Haveli is part of a group of five havelis, built one next to the other, for five brothers in 1805.  Richly carved facades and arched balconies line the front wall with a pattern of detail that is almost hard to take in.
Our last night, we stayed in our very own fort at the Gateway to the Thar Desert – The Surygarh Hotel – a brand new (2008) iteration of all the forts we had visited during our week in Rajasthan.  We wished we could have had one more day to continue on into the desert itself.  Maybe next time…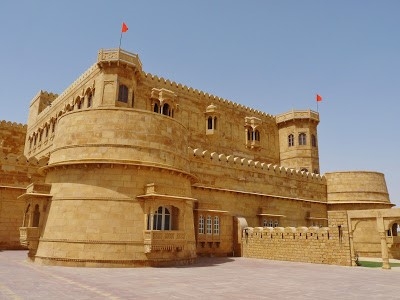 We contented ourselves with one more fabulous Indian dinner under the stars, and, at the same time, celebrated our 46th wedding anniversary!  We both agreed that this week in Rajasthan had been, without question, the most exciting and exotic of all our many and varied travels.  Back in Paris, our brains are still on overload with all we saw, did and learned.  This blog post presents just an eye blink of it all, but hopefully gives a taste of Incredible India.
Namaste!
by Janet Robbins