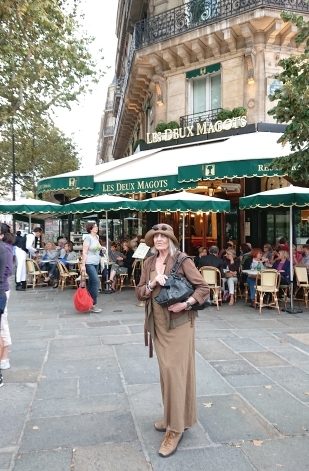 It's… "La rentrée"…
The… "re-entering"…
Paris… mon amour…
Is… back…
The city has come back to life… meaning after the long hot summer we wrote about.. where Parisians flee to their various favourite haunts.. be it to their homes in the beatific French "campagne".. or the sun-drenched "Côte".. spreading in a long undulating scenic road from our much-loved St. Tropez.. ("sans touristes").. all the way to the shimmering gem.. Monaco.
Breathtaking…
The month of September heralds the Parisians' "re-entering".. the city.
It's.. a re-birth.
A.. new beginning.
"Le Monde" the Parisian "quotidienne".. announced in a dramatic headline: "La Rentrée Littéraire"…
Our "quartier" of St. Germain.. which is drenched in literary giants – Sartre and Bouvoir to name a few – as well as great artists who frequented our two legendary cafés "Le Flore" and "Les Deux Magots".. comes to life again.
"Bonne rentrée" is being exchanged by the crowds at the cafés.. happy to be back.. while chatting.. drinking "une bouteille du vin".. exchanging new projects.. dynamic ventures.. excited to be in the midst of this new beginning in the city we love.
"La rentrée"…
Is a magnificent experience…
Euphoric…
A… phenomenon…
Unique… to…
Paris… mon…
Amour…
a.